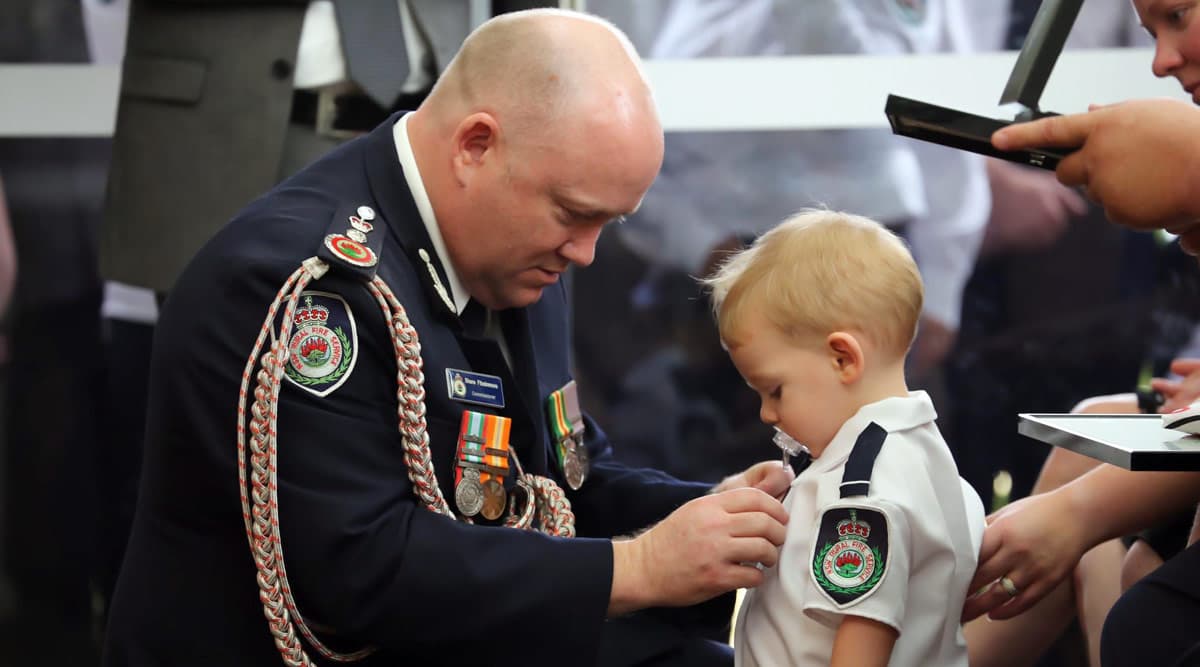 Months of severe drought and record-breaking temperatures have fuelled a series of immense bushfires across Australia. The fires burning since September, 2019 have taken many lives. Firefighters are battling with flames round the clock, trying to save and rescue as many as they can. The efforts are on to bring the situation under control and while doing so, a few brave firefighters also lost their lives in the line of duty. Geoffrey Keaton was one of them who died on December 19, when his fire truck hit a fallen tree. The New South Wales Rural Fire Service (NSW RFS) honoured him with a bravery award that his 19-month-old toddler received on behalf of his father. The heartwarming pictures from Keaton's funeral have been uploaded on NSW RFS Facebook's official page. Here's How You Can Donate and Help Those Affected by Destructive Australian Wildfires. 
According to media reports, Keaton and his colleague, Andrew O'Dwyer, were on their route to a blaze, when a tree fell on their vehicle, causing it to overturn. Australian Prime Minister Scott Morrison also attended Keaton's farewell. Young Harvey Keaton received the bravery award on behalf of his father by NSW Fire Commissioner Shane Fitzsimmons. Dressed in a firefighter's outfit and a pacifier in his mouth, young Keaton stood proud while receiving the medal. Australian Bushfires: These Kangaroo and Koala Rescue Pics and Videos Will Leave You in Tears. 
"The NSW RFS family farewelled one of their own, with the funeral of Geoffrey Keaton held in western Sydney earlier today. Geoff was one of two firefighters who tragically lost their life while fighting fires in south west Sydney on 19 December 2019. Commissioner Shane Fitzsimmons honored Geoffrey today by awarding him posthumously a Commissioner's Commendation for Bravery and a Commissioner's Commendation for Service," reads the Facebook post.
Here's Young Harvey Keaton Receiving Bravery Award for Dad:
People were left teary-eyed. "Hero!! Much love to you our fellow brother in yellow. Thank you for your service. Your job is done, we will take over on the hose!! RIP" wrote one commentator. "RIP Geoffrey Keaton. My heart goes out to all of his family and friends. I also hope that Shane Fitzsimmons is getting the emotional support he needs as he is carrying a heavy burden and doing amazing job being the face of this crisis day in and day out," writes another.
Social media is full of images and videos that show disheartening moments from the bushfires. NSW has been affected majorly with more than four million hectares, destroying thousands of houses, forcing victims to seek shelter elsewhere. The situation is very dicey, and authorities predicted that the fires might continue for more days.