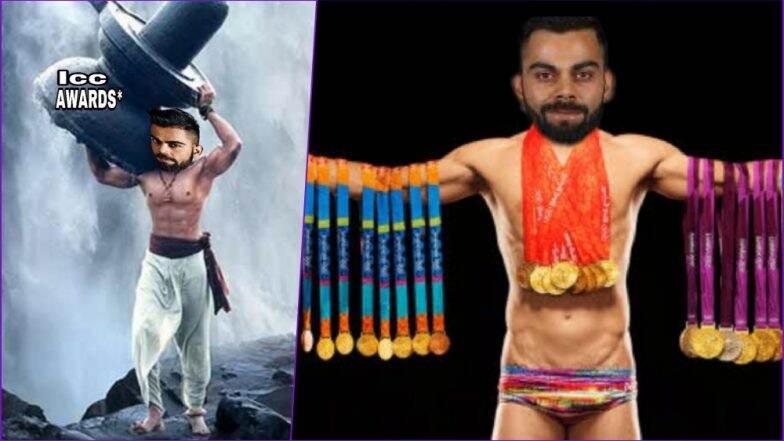 Is Indian captain Virat Kohli invincible? Stats, records, feats and achievements suggest so. The 30-year-old is shattering records, making new ones and rewriting history with each passing day. Adding a new feather to his cap, Virat Kohli became the first cricketer to win all three top awards at the ICC Awards. He won "Test Cricketer of The Year", "ODI Cricketer of The Year" and "Cricketer of the Year." That's not all, Kohli was named the Captain of ICC Test Team of the Year and ICC Men's ODI Team of the Year. There was nothing that missed star Indian cricketer's clutches, and his fans celebrated his incredible success with much zeal and excitement. Of course, they chose to do it in the new-age style – making hilarious memes to congratulate their favourite cricketer. Now, these Virat Kohli memes will make you swell with pride and laugh till your stomach hurts. Interesting, isn't it? Virat Kohli Becomes First Cricketer to Win Sir Garfield Sobers Trophy, ICC Test and ODI Player of the Year Awards in Same Year.
Institutionalised by the International Cricket Council (ICC), the awards recognise and honour the best international cricket players of the previous 12 months. And last 12 months has been dominated by this one person – Virat Kohli. He has got the Midas touch. He can bat on any surface, fears no opponent bowler, makes runs at will. Such is the charisma of Virat Kohli that his teammates, KL Rahul and Hardik Pandya went on to rank him better than Sachin Tendulkar on Koffee With Karan 6 show. Of course, they are banned, not for the above remark, but for making misogynistic and racist comments. But jokes apart, Virat Kohli is the man of the hour.
He scored 1,322 runs at an average of 55.08 in 13 Tests with five hundred's during the calendar year while in 14 ODIs he amassed 1202 runs at an astonishing average of 133.55 with six centuries. He also scored 211 runs in 10 T20Is. He has not only been a phenomenal batsman but also won matches as a captain.
Virat led Team India to a historic 2-1 victory over Australia at their home. He beat them comprehensively 2-1 in ODI series, levelled Twenty20 1-1 to be first Indian captain to remain unbeaten on an Aussie Tour. He has already beaten New Zealand in the first ODI match by eight wickets in Napier to take a 1-0 lead in five-match ODI series. Can this man do anything wrong? NOPE, Not at this moment. So, sit back and enjoy his success at the ICC Awards via some awesome, fun memes.
Sahi Pakde Hai
Virat kohli right now #ICCAwards pic.twitter.com/aN7uQ258G4

— Shikanji wala (@Noreservation9) January 22, 2019
Haters Be Like: "Fielder of The Year" Bas Rah Gaya
Cricketer of the Year ✔️

Test Cricketer of the Year ✔️

ODI Cricketer of the Year ✔️

Captain - Test team of 2018 ✔️

- Virat Kohli #ICCAwards pic.twitter.com/psCnPdOpHT

— Mask Ishan (@Mr_LoLwa) January 22, 2019
HAHAHHAHAHHAHHAHAHHA
#ViratKohli right now

Captain of ICC Test XI

Captain of ICC ODI XI

Cricketer of the year

ODI Cricketer of the year

Test cricketer of the year#ICCAwards pic.twitter.com/5WDPHD7xP2

— Tweetera🐦 (@DoctorrSays) January 22, 2019
Virat Kohli Turns Virat Bahubali at ICC Awards
#ViratKohli after #ICCAwards2018 😍 pic.twitter.com/ZipoGb9SdH

— Aarohi Tripathy 🇮🇳 (@aarohi_vns) January 22, 2019
Call to Detractors
#ICCAwards#ViratKohli right now to his haters... 😁😂 pic.twitter.com/SKDm4lLJjb

— नादान परिंदे🇮🇳 (@Gauri_doonite) January 22, 2019
The Floor is Awards
The floor is awards. #ICCAwards pic.twitter.com/k64P4ufiSs

— Mask Ishan (@Mr_LoLwa) January 22, 2019
Little Gamora to Thanos Meme is Here to Stay
#ViratKohli #ICCAwards2018 pic.twitter.com/4Gh19DodPP

— Bade Chote (@badechote) January 22, 2019
5 Titles, 1 Cricketer
Virat Kohli sweeping #ICCAwards pic.twitter.com/3aMLa5ndQ6

— SAGAR (@sagarcasm) January 22, 2019
Virat Kohli Doing Total Dhamaal at ICC Awards 2019
Virat Kohli to other cricketers at #ICCAwards pic.twitter.com/UOlqRbrVSz

— Bollywood Gandu (@BollywoodGandu) January 22, 2019
Do you know what the captain said after winning it all at ICC Awards? Virat was quoted saying, "It feels amazing. It is a reward for all the hard work that you do throughout the calendar year. I feel really grateful and very happy with the team doing well at the same time myself performing. Having recognition at the global level from the ICC is something you feel proud of as a cricketer because you understand that there are many players playing the game." Keep up the good work going, Virat Kohli.