Bollywood films are loved by one and all. The song and dance routine added with typical Bollywood masala is a combination that has worked since decades. But looks like there is something better form of entertainment that people are enjoying! According to Google Trends report, Bhojpuri films clearly beat Bollywood films in the searches. More Indians searched for Bhojpuri films over Bollywood film. The accessibility of the internet has become so much easier that watching movies on mobile phones has become a pass time. The Google Trends data shows that since the year 2015, the popularity of Bhojpuri movies is increasing. How to Kiss on Lips Aka 'Kiss Kaise Hota Hai' Taught by This Bhojpuri Director Is a Laugh Riot (Watch Video). 
There are many video streaming apps today which give access to the latest Bollywood and Hollywood films, but other than that there are many movies that can be watched freely on the internet. Bollywood clearly takes a backseat as Bhojpuri cinema is gaining popularity. Bollywood films have competition from other regional cinema like the Tamil and Telugu films. In the year 2014, Indians were searching for Tamil and Telugu films but in recent years, Bhojpuri is winning the audience. Indian Bhojpuri XXX Beats Telugu Blue Film and Desi Gujarati Sex As Most Searched Porn Word on Pornhub.Com in India.
Take a Look at Google Trends Data of Bollywood Film vs Bhojpuri Film Search Results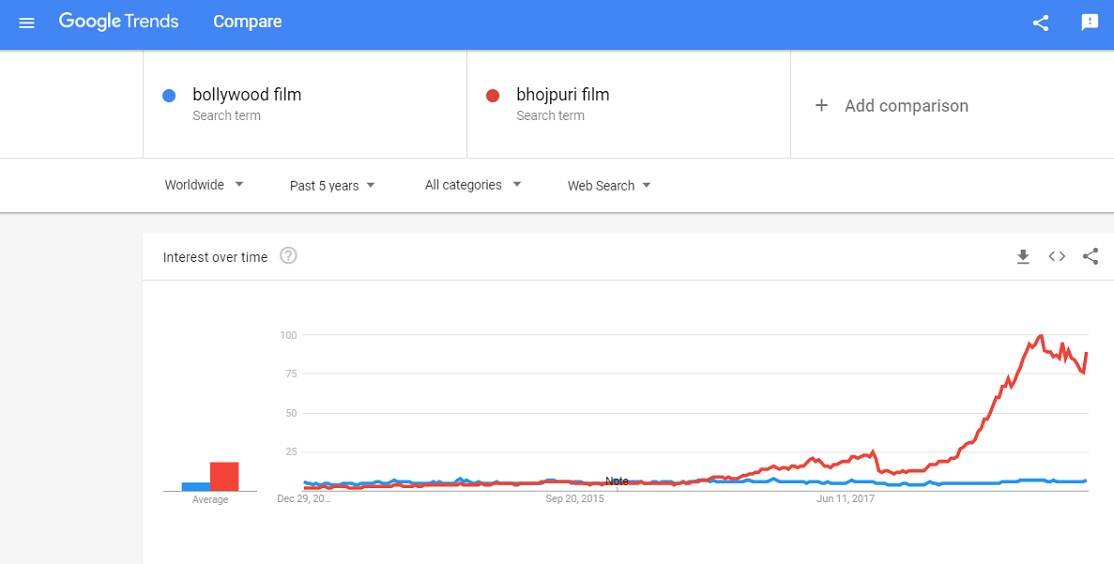 The data also reveals that more and more people are interested in watching the dubbed version of South films. Among the most searched films, this year was Rajnikanth's 2.0. And the searches surprisingly were from the state of Jharkhand over Tamil Nadu.
The steamy scenes, raunchy dialogues and over the top songs seem to be the new source of entertainment for Indians. Bollywood industry has given some really good content-oriented films this year along with typical entertainers but the audience's choice seems to be swaying away to a different style of entertainment lately.