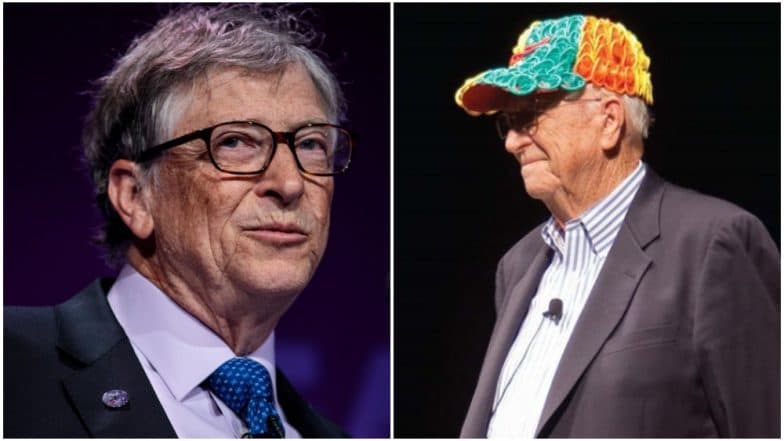 Microsoft co-founder Bill Gates took to Instagram sharing picture of his father William Henry Gates II better known as Bill Gates Sr. wearing a baseball cap made from condoms. In the post, he wrote that the cap he wrote at his foundation's annual meeting was gifted by a social activist from Thailand named Méchai Viravaidya. Earlier too Gates shared pictures of Mechai praising his mission to popularise condoms and safe sex in Thailand.
Gates wrote that Mechai "efforts to destigmatize contraceptives have been so successful that he is affectionately known as 'Mr. Condom', or the 'Condom King', in his home country." It is due to Mechai's efforts, Thailand became one of the first countries in the world to achieve a considerable reduction in the rising HIV cases. Gates' post has gone viral on social and has collected over 1,30,000 likes on Instagram. Bill Gates Praises 'Condom King' Mechai Viravaidya for His Contribution to Thailand's Population Control.
Here is Bill Gates' Instagram post:
Gates in his previous post had shared the marketing techniques Mechai used to normalise the use of condoms. He praised the man's efforts which helped in keeping the population in check and reduced STDs drastically. He also posted a blog on Mechai's work urging countries to take a cue from Mechai's techniques that encouraged family planning.
Gates in his earlier post on Mechai wrote, "In a country where most people were uneasy discussing sex, Mechai Viravaidya pushed the conversation out into the open." Mentioning about Mechai's company named Condoms and Cabbages, the co-founder of the tech giant wrote, "Mechai has helped improve the lives of millions of people in Thailand. And the Thai people have thanked him with an honor that is perhaps the greatest measure of his impact."