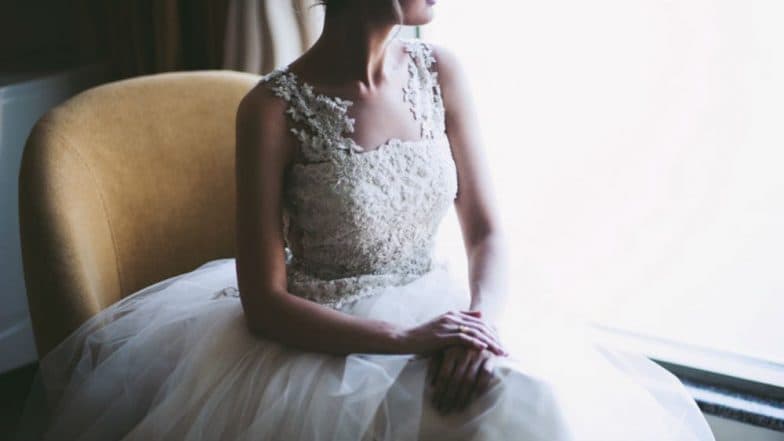 In a strange incident, a bride kicked out her sister and her maid of honour after she gave a speech on her wedding where she spoke about the bride's battle with depression. The bride is being slammed on Reddit after she posted the whole scenario of her wedding. She apparently asked her sister to leave the wedding after her sister delivered an "inappropriate" speech. The sister's speech garnered a lot of attention amongst the guest who congratulated her and the bride felt that attention was being hogged by her sister. Therefore she asked her sister to leave the wedding. The woman posted her story online on Reddit using an anonymous account, and claimed the "entire speech" made by her sister "was about her" and her battle with depression, through which the groom helped her. Bride Dances With Her Dying Father on Her Wedding Day, The Viral Video Will Make You Cry.
The Reddit post read: "During her speech, she brought up her depression and how my husband supported her through it and how 'in that moment, I knew he was the one for [my sister],'" She further explained her problem with her sister's which, where she was trying to say that her sister was taking away all the attention that only she deserved. The post read: "I thought her speech was really selfish. I think it's super inappropriate to bring up a mental illness during a wedding speech. Not only that, but the entire speech was about her. At MY wedding. [Ninety percent] of the guests congratulated her afterwards and talked about how 'strong' she was," "Nobody was paying attention to me, at my own wedding!" she added. She revealed how she ended the scene by asking her sister to leave the reception "without arguing."
The woman's husband and friends believe that her move was too harsh and the same goes with the people on Reddit who slammed her for being selfish. After the whole scenario, she went ahead to seek validation from Redditers. She received a backlash online as it was quite apparent that the bride was at fault. One person wrote: "You kicked your sister out for bringing the focus to herself because it was your wedding? Weddings are about bringing people together, not about you being a celebrity for a day." Someone else wrote: "'Nobody was paying attention to me!' Never has one sentence defined my resentment for weddings and wedding culture so perfectly."