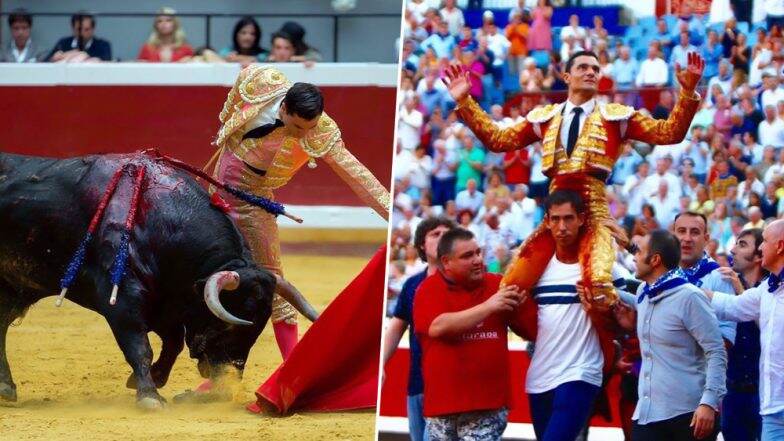 In a horrific incident, a Spanish bullfighter, Paco Urena had his penis crushed after the bull he was tussling lurched its horns into his pelvic area. The bullfighting was taking place at Semana Grande Big Week fair in Bilbao, Basque Country, northern Spain yesterday.  The gory moment was captured in a series of pictures by a photographer and it is too graphic and painful to look at. The series of pictures have captured the exact moment the bull staggered its sharp horns into his pelvic area at Vista Alegre bullring. Also, remember the viral video from Spain's bullfighting last year where a bull broke both legs after leaping from ramp placed too high? 
The bullfighter, could be seen wearing a glitzy gold-coloured jacket and bright orange tights. In the pictures, he can be seen suffering from pain while the bull lunged into his groin area.  However, he didn't give up and ultimately won the fight. He celebrated his victory with his pants stained in blood.
The whole incident has been turned into a video where you can actually see the bull plunging its horns in between Urena's legs. The champion did not stop, even though he continued to bleed.
Watch Complete Video of Paco Urena's Bull Fight Mishap: 
Ureña revienta Bilbao. Primera Puerta Grande de la feria para Paco Ureña tras dos faenas llenas de verdad. Esfuerzo y compromiso de Urdiales con un lote complicado. Entregado Cayetano, luciendo su toreo de capa en una corrida de Jandilla desigual en su juego.#AsteNagusiaenToros pic.twitter.com/qsZ8bmCNZr

— Toros (@toros) August 23, 2019
Urena, however, was successful and won the tussle. He was, also pictured smiling as he held two bull's ears as trophies as part of Semana Grande, as a part of the tradition.
Check Out His Picture After The Victory:
Bilbao tiene un nuevo torero, Don Francisco Jose Ureña Valero @UrenaOficial Zorionak maestro, ese sueño que tenías, ya es una realidad. pic.twitter.com/bQDQgBPsLw

— Casa Chopera (@CHOPERATOROS) August 23, 2019
Also locally known as, Aste Nagusia the event takes place in mid-August every year. Thousands of people attent to watch the celebration of Basque culture in northern Spain. This year the Semana Grande festival started on August 17 to 25.