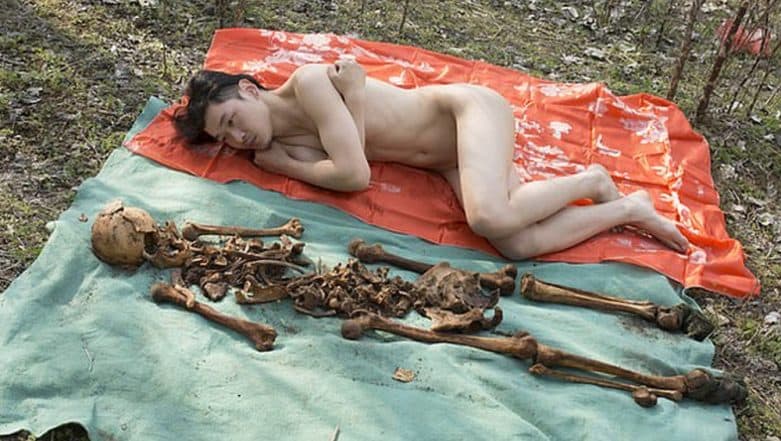 One cannot put a boundary to artists' creativity. Their creative process can go up to a range beyond one's imagination, and sometimes deep in a graveyard too! A Chinese artist named Siyuan Zhuji has caused a stir on social media when he posted nude pictures of him sleeping next to his father's skeleton. Zhuji, an artist from Beijing posted his naked pictures as a part of a photo shoot. But his portrayal of nudity also had dead remains of his father arranged neatly beside. He posted these images on a website called Artand and Chinese microblogging site Weibo. Viewers were not impressed and he has been slammed online. Looking For Perfect Instagram Picture? Model Gets Shark Bites While Photoshoot.
Siyuan Zhuji, real name Si Lulu always wanted to take photos with the bones of his deceased father. He posted these pictures a day after Tomb-Sweeping Day, which is an annual festival to honour those who have passed away. The artists' interpretation drew a lot of criticism online. To get these pictures clicked, he took the help of cemetery workers to dig out the remains of his father. Talking about his idea he was quoted to Beijing News, "It was an amazing feeling. This was the closest I've ever been to my father,' he said. 'I am expressing my feelings to him in a personal way." Danish Photographer Has Sex on Top of Great Pyramid of Egypt, Viral Pic Sparks Outrage (Watch Video).
Check Picture of Chinese Artist Posing Nude With Skeleton of His Father:
Chinese artist lies naked next to his father's remains after digging the skeleton out for a photoshoot

. . .Siyuan Zhuji, 33, said it was 'his dream' to take a photo with his father

*From this angle, it looks like he's stiff; on the plus side, the #Dems now have another voter! pic.twitter.com/ONkzWWB3lk

— Meatblanket (@MeatBlankett) April 9, 2019
He said he was naked because that is how a person enters and leaves the world. He mentioned that he had taken prior permissions from the cemetery authorities and his wife assisted him to take the pictures. He lost his father when he was just 3 to liver cancer. People, however, could not relate. They have slammed his pictures for being disrespectful and called his work 'utterly shameless.' Many others have condemned his actions. Some said it was a cheap stunt to gain publicity.