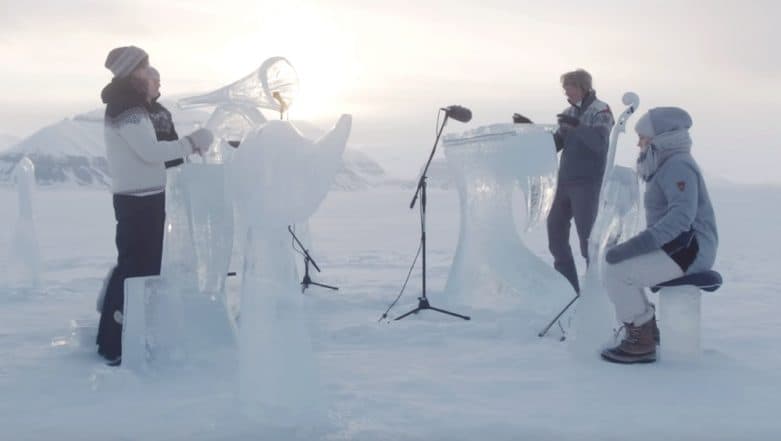 If there is one problem that is reeling the whole world together it is climate change. From years and years change in the global temperatures, the planet is under a definite crisis. And there are many initiatives held everywhere to create awareness about the same. One of the recent initiatives was the world's 'most northern concert' that took place in the North Pole. What's more special about it is that the instruments of this small concert were made of ice. They teamed up with Greenpeace to send a warning about the ecological warning. Climate Change: Canada Warming Two Times Faster Than the Rest of the World!
A group of musicians played a quartet on ice-sculpted instruments in the Arctic at -12℃ temperatures. A cello, horn, chimes and percussion were all made up of ice and used in this gig. They played a song called Ocean Memories. Terje Isungset, the lead musician was quoted, "You have to treat ice with respect, otherwise it breaks. We should do the same with nature." The musicians were wrapped in warm clothing as they played along. Climate Change Demands Action! Children Across 30 Countries to Skip School on March 15 for a Protest.
Watch Video of Musicians Performing With Instruments of Ice in the Arctic:
Isn't it amazing? The instruments used in this concert were made of ice collected from Arctic waters itself. The main aim of this concert was to highlight the rate at which the ice is melting in the region. As the video progresses, more ice carved instruments are introduced with the changing tempo of the song. According to Greenpeace, the temperatures in the area was 8 degrees higher in the last week than regular. Halvard Raavand from the organisation said, "By putting the spotlight on the Arctic ocean and ice loss, we want to emphasise the immediate need for ocean sanctuaries not only for the north pole but for the entire planet."