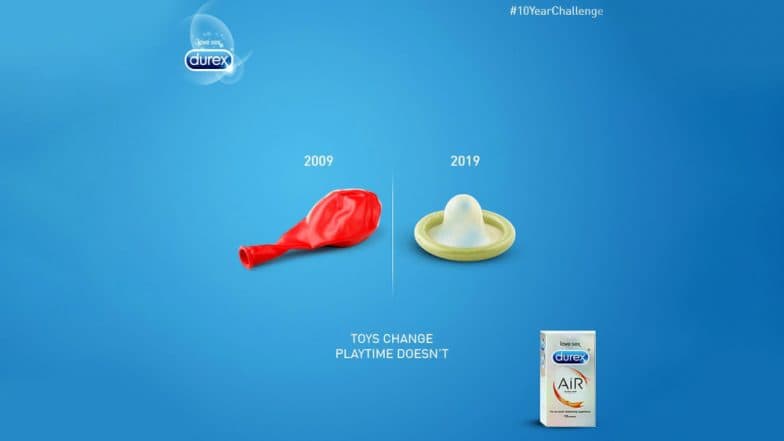 The 10 Year Challenge is now everywhere on social media with netizens reminiscing their decade-old looks. It is always a nice break to look back at the past and appreciate how we have advanced over the years. With every viral trend, come amazing memes that make you go ROFL. Memes have a specific connotation in our digital environment. And because of their popularity, it comes as no surprise that brands want a piece of this pie. Contraceptive manufacturer Durex has the wittiest social media who would every time present some hard-hitting memes that rapidly wins a big nod by internet users. Durex Takes a Cheeky Jibe at Indian Rupee Breaching 69 Mark Against Dollar! Alludes to Sex Position. 
Durex creatively made a meme-like image to fit the idea of #10YearChallenge. They tweeted pictures of a balloon against a thin layer condom next to it with a caption "A coming of age story." They pun on the words- toys and playtime indicating sexual activity. So they aptly put it as 'Toys change, playtime doesn't.' Not Just Safe Sex, Durex Condoms Should Be Used as Marketing Case Study. 
Durex India #10YearChallenge Tweet
A coming of age story. Buy now: https://t.co/bYeb2FWoR1. #10YearChallenge pic.twitter.com/LgEaUUiu3h

— Durex India (@DurexIndia) January 16, 2019
Durex is one of the most promising brands, and it never fails to entertain the audience with not only their advertisements, but also their varied products. If done correctly, meme marketing can be very successful, and Durex is undoubtedly the best example. The brand's #10YearChallenge are making people laugh with a casual reference to its products. What's a better way than this!