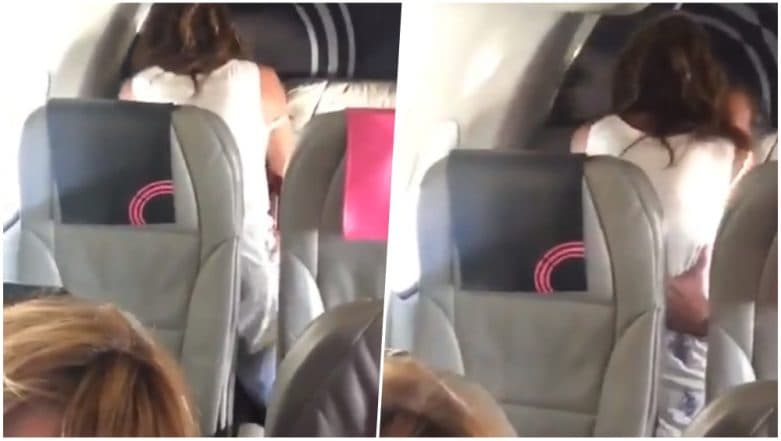 It is the one thing that we do not really want to see while we fly. Getting playful on an aeroplane may only seem to happen in the movies; but time and again real-life couples and strangers have proved that is not true. In a recent moment, a husband and his wife who were travelling came across some unexpected entertainment on board. Another pair who were sitting two rows behind them got into some rendezvous later appeared to be having sex. The act was filmed by the middle-aged couple who sent the video to their daughter. Kiley Tully posted the explicit footage on Twitter which soon went viral with about 4.5 million views (still counting).
The two passengers were enjoying their moment in the comfort of their seats. On Twitter Kiley wrote, "My mom and dad were just trying to have a peaceful trip to Mexico and then they sent me this," along with the short selfie video. While recording, they even turn the camera to the front of the plane to show the fellow passengers who were completely unaware of what was happening at the back.
Watch the explicit video of couple having sex on Mexico-bound flight! 
My mom and dad were just trying to have a peaceful trip to Mexico and then they sent me this........ pic.twitter.com/QxE6JskzuE

— Kiley Tully (@KileyTully) June 17, 2018
The couple was travelling to Mexico and it was not clear to which airline they were flying or if any action was taken against the couple in white. Well, it appears that such instances have gradually became very common when passengers who are enthusiastic to join the Mile High Club (MHC) have been caught in such acts up in the air. MHC are for those who have had sexual intercourse with the fellow traveller while on board on a flying aircraft. Earlier this year a pair of strangers in 20s were caught in the middle of the sex on a packed Virgin Atlantic flight to Cancun, Mexico. However, in the fresh episode, it is not really clear if it could be counted as another one desires to join the MHC.