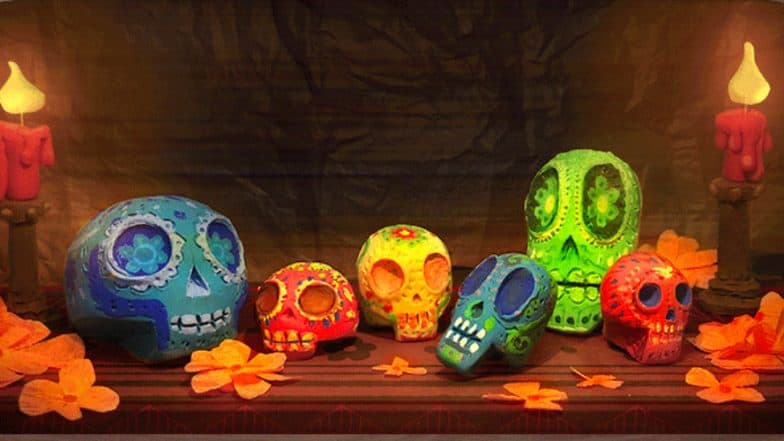 On November 2, Google celebrates Mexico's Feliz Día de Los Muertos, commonly known as Day of the Dead. It is a time of celebration and remembrance of friends and family who have died and embarked on their spiritual journey through the afterlife. With orange marigold petals as 'ofrenda' (offering) around the colourful hand-made skulls which appear between the playing candles, doodle represents the traditional set up for the carnival beautifully. The feature is handcrafted by Doodler Nate Swinehart, out of clay. And the tech giant has also uploaded the entire process of making the doodle, with images to download for creators. Google Doodle Multiplayer Game 'Great Ghoul Duel' Is Spooky! Know How to Play and Collect Spirit Flames. 
The Mexican holiday is celebrated on November 1 and 2, but majorly observed on the latter day. It dates back to the Aztec Empire. During the festival, people gather and pray to help those who have demised on their spiritual paths. The colour of the skulls and face paints have detailed meanings. Yellow—representing sun and unity, white—depict the spirit and purity, Red—life, Purple—signifies the mourning that is felt by those who lose their near ones and Pink represents happiness. It is a joyous occasion that is about dispelling the fear and embracing the cycle of life. Happy Birthday Google: New Doodle Features Popular Questions Asked During The Last 20 Years. 
Now, if you are wondering, it has some connections with Halloween, let us tell you it's not. The people in Mexico observes it believing that death is something that should be celebrated in a lively way and that is not something to be afraid of. The serious tone of Day of the Dead is attended by colourful decorations like the one in Doodle. Individuals begin to prepare for the celebration far in advance, cleaning the house, preparing colourful ofrendas surrounded by favourite food and drink. Death is just another part of life. Happy Day of the Dead!