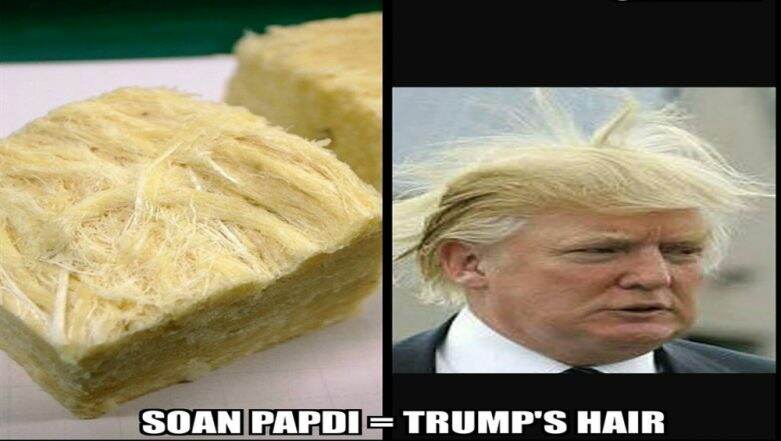 Indians are celebrating one of the most awaited time of the year- the festival of Diwali. The atmosphere is filled with a festive vibe as houses are being decorated with colour and lovely wishes are exchanged for Diwali 2018. Along with all the decorations, it is the special snacks that add to the festivities. People make certain snacks especially for the festival and there are feasts arranged, sweets exchanged among family and friends. Talking of Diwali sweets, the Soan Papdi or Son Papdi deserves a special mention. Over the years, the sweet Indian mithai has made its presence felt in almost every household. Diwali gifts have somewhat become synonymous with giving a box of Soan Papdi, which to be very honest gets passed on from one person to another. In the time of making memes and jokes on the internet, the Soan Papdi too, gets its share. The festive sweet is such a commonly exchanged food item that there are several jokes made on it. Diwali Recipes 2018: Ditch Adulterated Sweets! 5 Sweets You Can Make at Home Easily.
The popular Indian sweet is usually cube-shaped and flaky in its nature. It is made of gram flour, sugar, milk and ghee. The origin of this sweet is not exactly known but it starts making it to store racks just around the time for Deepavali or rather any other festive occasions. It is tasty and a melt-in-mouth confectionary but it has been passed on for too long. There are Son Papdi memes and jokes which in itself shows the popularity of this item and they are every bit relatable. Funny Diwali Jokes & WhatsApp Stickers 2018: Deepavali Image Wishes in Hindi With Hilarious Memes to Wish Your Friends & Colleagues on the 'Festival of Lights'. 
Check Out Some Funny Soan Papdi Jokes and Memes
Change in traditions!
When relatives gives you cadbury celebration instead of soan papdi on Diwali

You : pic.twitter.com/QTimW55cXj

— Manash (@JyotiLikharu) November 6, 2018
What Goes Around Comes Around Like Soan Papdi
Karma is getting back the Soan papdi you transfered.

— That girl (@dimplewaliladki) November 6, 2018
A gift too common
#BanSoanpapdi #BanSonpapdi pic.twitter.com/xEdTomJInp

— Ajay Dave (@ajayrdave) November 3, 2018
*When people gift 'Soan Papdi" ka dabba*

Me: pic.twitter.com/rbVsT7XZhk

— maddy (@innocent_bandaa) November 4, 2018
Soan Papdi be like...
So true! 🤣#soanpapdi #sweets #diwali #festival #memesdaily pic.twitter.com/LkQhSkLHDw

— Bobby Roy (@theCanonFanboy) November 5, 2018
Soan papdi after reshuffling though various people as gift pic.twitter.com/HSCVyVPKuX

— Mayur (@shaitan_ladkaa) November 6, 2018
Ouch!
What is Soan Papdi to Deepawali sweets is what you are to your crush.. 😁😒#FoodThought

— Yeah Whatever 🤔😎 (@anu_sh_ree) November 1, 2018
Every Diwali Ever!
Soan Papdi ruined!
We are sure these funny images and tweets gave you a good laugh. All of them are just so true! Have you received a box of Soan Papdi yet? Well, no offence to anyone who loves the sweet, but just that it has been there too consistently for Diwali. Wish you all a very Happy Diwali!