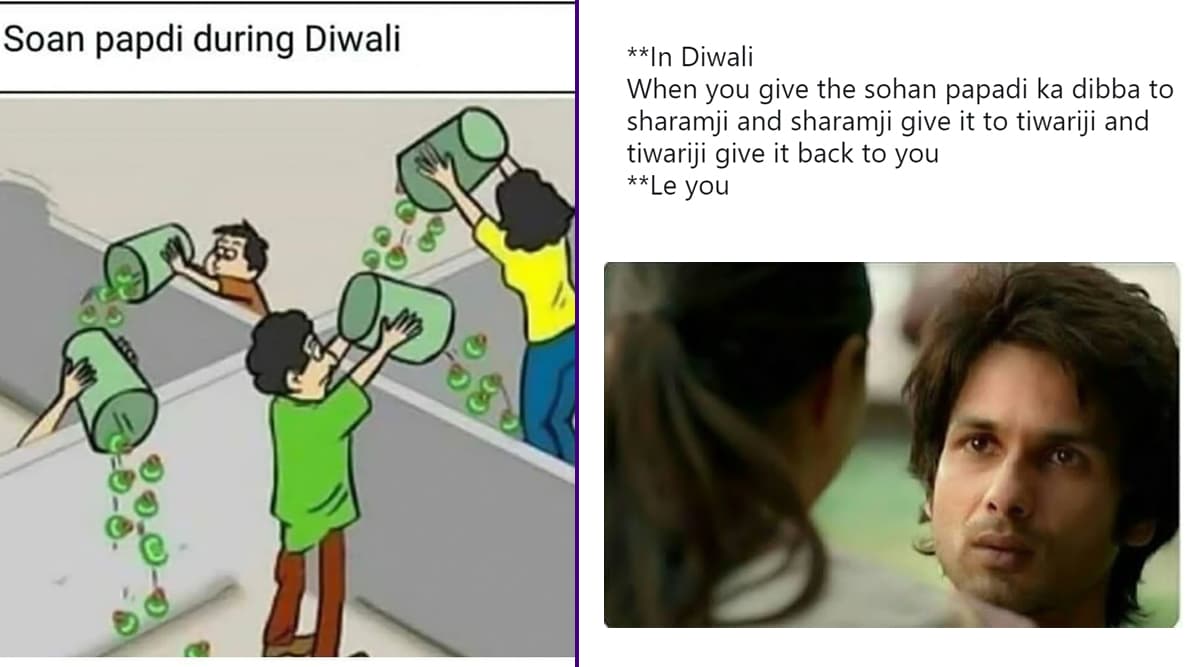 Diwali 2019 will be celebrated on October 27. Yes, we are quite a few days ahead, but that cannot stop Twitterati's humour. Every year, the festival brings in a crazy number of funny reactions that are absolutely relatable. Be it the recycling of soan papdi and packets of dry fruits or the laughable traditions; the festivity brings in joy only. Since firecrackers are not cool, social media users like to celebrate the festival of lights by cracking up some jokes. There is at least a week to go for Diwali 2019, and Twitter is already having a blast sharing hilarious messages and jokes that are insanely going viral. Diwali 2019 Brings With It Soan Papdi Memes! Funny Jokes and Tweets on Not-So-Favourite Diwali Sweet Start Trending Online. 
Internet is always filled with memes. Everywhere we look online, some sort of picture of an angry cat or a celebrity's face that some have written a new caption to put their spin on, tickles our funny bones. This internet phenomenon illustrates a more profound dynamic that is always at play between an individual and culture. And the Hindu festival of Diwali is one of them. While we adore our traditions, there are some annoying acts that only humour can address. Especially the recycling of soan papdi boxes and expectations of bonus. Quite a displeasure! Without any further delay, let us check what Twitter has to share with us, in the form of memes. Diwali Bonus Jokes Are Here! Funny Memes to Share With Your Friends and Colleagues While You Wait For The Bonus This Festive Season. 
Brace Yourself for Diwali 2019 Memes:
#Diwali #expectationvsreality 😎

.#Diwali #diwalidecorations #diwalivibes #diwali2019 #expectationvsreality #amhimemekar #meme #memez #funnymemes #funnyvideos #mumbai #mom #AamirKhan @aamir_khan #andazapnaapna pic.twitter.com/9XauBVqzvY

— TheSidekickView (@SidekickView) October 20, 2019
No Crackers, People!
**In Diwali

When someone burst cracker in front of animals pic.twitter.com/keotp9bPtC

— memes_wala_launda (@Vilupt_hua_naam) October 20, 2019
Laughing Out Loud:
Nobody

Literally Nobody

Me thinking about my Diwali bonus pic.twitter.com/h5kbhSeq2k

— memes_wala_launda (@Vilupt_hua_naam) October 20, 2019
Every Year:
Accurate 😂😂 #diwalimemes #realityofsociety pic.twitter.com/v7PAtjsjn4

— Jaydeep Patel (@jaydeep_patel7) October 19, 2019
Tears Are Real:
**In Diwali

When you give the sohan papadi ka dibba to sharamji and sharamji give it to tiwariji and tiwariji give it back to you

**Le you pic.twitter.com/cA3s5aDYkL

— memes_wala_launda (@Vilupt_hua_naam) October 20, 2019
We must tell you, that it is only the beginning. Twitterati is not going to keep their calm. They will surely stage a lot of other hilarious tweets in responses to everyday events, especially on the main day of the festival. With the Diwali 2019 memes going viral, we hope that certain section of our society who has been refusing to innovate even a little, will have something else if not better way to celebrate the festival of lights. Happy Diwali!