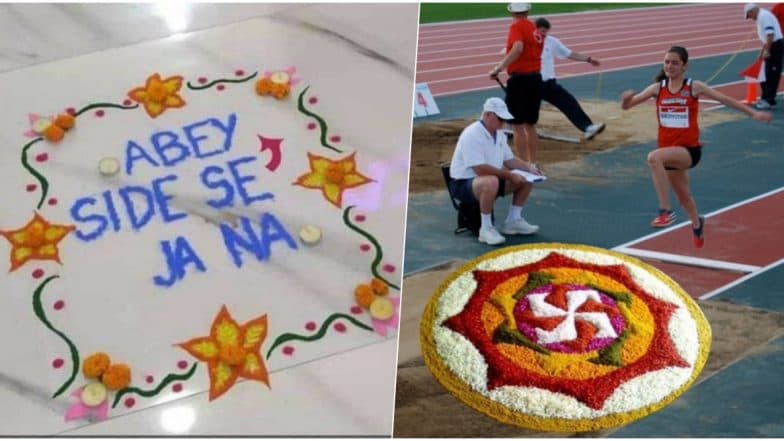 The Diwali festivities are being marked currently and everyone is enjoying the festive vibe. Houses are decked up with lights and lantern decorations and almost every household have a rangoli made outside. But spoiling the rangoli can invite wrath from the mothers and sisters. Making rangoli patterns is not that easy and it is really annoying when someone steps on it and spoils it, even if by mistake. The same situation has become a source of funny memes and jokes on social media. People are sharing funny tweets about rangoli during Diwali. Easy Rangoli Designs for Colorful Diwali 2019: Quick and Simple Rangoli Patterns With Colours and New Pookalam Designs With Marigold Flowers for Deepawali (Watch DIY Videos).
Diwali rangolis are one of the ways of not only decorating the house but also inviting good luck and prosperity. So it is a tradition that has been followed since years and over time, there are just so many varieties of rangolis that are made, with rice powder, flower petals, pulses or different colours. Making big rangolis, dot rangolis, filling them with colours does take some time. Seeing all the hard work pay off is a happy feeling no doubt, but it gets completely ruined when someone touches it, even if by mistake and spoils it. Finding humour in the situation, even rangoli memes have started appearing on social media. Diwali Bonus Jokes Are Here! Funny Memes to Share With Your Friends and Colleagues While You Wait For The Bonus This Festive Season.
Kabir Singh Fans, Get It?
#HappyDhanteras #Rangoli #preeti @shahidkapoor @advani_kiara pic.twitter.com/HbF2JtCDld

— Excuse_meme_saab (@ankityadav08) October 26, 2019
Oops
* Sister When I Spoil Her Rangoli * pic.twitter.com/5qMC0imbwT

— Harry Meme Boi (@harjot_kaler) October 27, 2019
Relatable Much?
*Rangoli Made By Mom and Sister*

Me and My Dad : 👇👇 pic.twitter.com/B3aF3gKgsX

— Memes World (@humorous_meme) October 27, 2019
Wow a Meme Format in Rangoli!
Some actually made a Meme Rangoli! 😭 #Diwali pic.twitter.com/MrdJSyKDji

— Yikes (@moodynebula) October 27, 2019
When Memes are Life
#Rangoli #Diwali2019 #MEMES #woman #yelling at #cat pic.twitter.com/SzIcndqmpn

— Hitarth Bhatt (@Hitarrrth) October 27, 2019
Performing Stunts
#Rangoli #RangoliDesigns #Deepavali #AkshayKumar #meme #troll pic.twitter.com/c10qccIEsv

— Divya badhautiya (@DivyaBadhautiya) October 26, 2019
Ajay Devgn trying to avoid stepping on a Rangoli pic.twitter.com/3S5GIqo39I

— Sir Yuzvendra (parody) (@SirYuzvendra) October 27, 2019
Apt Apt
My rangoli design for this Diwali. pic.twitter.com/Cgvg8s1tdo

— Ash_thetic_memes 💫 (@Ash_thetic) October 25, 2019
A Better Version?
What about this rangoli guys?? 😛😛 pic.twitter.com/f395rsGn4U

— ᵃʸᵉ_ˢʰᶤᵛᵃᶰᶤ 💕 (@oolikhnewali) October 26, 2019
Hahaha
Me trying to enter my house during Diwali days be like pic.twitter.com/aLIRgy89DD

— Pranav Sapra (@pranavsapra) October 24, 2019
Can't you relate to just all of the above funny tweets on rangoli? Just before the start of the festival, social media was trending with Diwali ki Safai memes. A few days onto the festival there were memes made on popular sweets Sonpapdi and Kaju Katli. So while we all are enjoying the festival, there is really no stopping the memes.