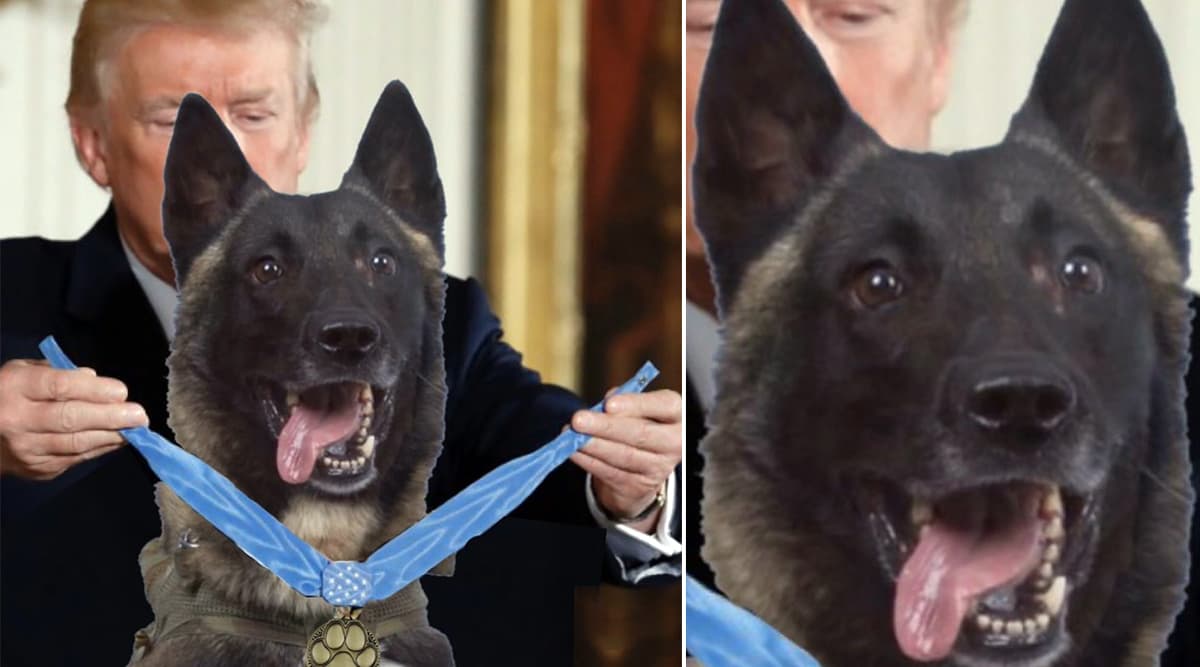 United States President Donald Trump has tweeted a fake image of himself awarding a medal of honour to the military dog who was involved in the killing of the Islamic State leader Abu Bakr al-Baghdadi. The image is a photoshopped version of the actual photo of Trump awarding the medal of honour to James McCloughan, a retired army medic in 2017. McCloughan was then honoured for saving the lives of 10 people during the Vietnam war. Trump posted the picture on Twitter with the caption, "AMERICAN HERO!" The tweet went viral garnering mixed reactions from people. Donald Trump Reveals Name of Military Dog 'K-9' Injured in Raid to Kill ISIS Chief Abu Bakr Al-Baghdadi.
The medal of honour is the most prestigious military decoration awarded to US service members for extraordinary acts of valour. Trump had earlier tweeted a photo of the dog on Tuesday saying that the pooch's image was declassified. But early on Thursday morning, Trump classified the dog's name as Conan. He also said that the dog would leave the Middle East for the White House next week. Abu Bakr al-Baghdadi Killing: Donald Trump Shares Picture of Dog Injured in US Raid That Killed ISIS Chief.
On Tuesday, Trump tweeted another photo of the 'wonderful' animal, who was injured during the raid on Baghdadi's Syrian compound. The defence secretary, Mark Esper, has said the dog "performed a tremendous service, as they all do". Trump tweeted the photo of the dog saying that it ran down Islamic State leader Abu Bakr al-Baghdadi in a Syrian tunnel before Baghdadi killed himself.
Donald Trump's Tweets Fake Photo of ISIS Raid Dog:
Thank you Daily Wire. Very cute recreation, but the "live" version of Conan will be leaving the Middle East for the White House sometime next week! https://t.co/Z1UfhxsSpT

— Donald J. Trump (@realDonaldTrump) October 31, 2019
Original Photo of Trump Giving The Medal of Honour to James McCloughan:
Here's the original. I wonder how James McCloughan feels about his medal of honor photo being changed to replace him with a dog. pic.twitter.com/TjidMKUawA

— Remove him from office (@davef_dave) October 30, 2019
Check Out The Twitter Reactions Below:
In other words, your photoshopped tweet was OUTED, so you decided to CYA by now calling it a "very cute recreation."

Nice try!

Too little, too late.#FakePresident pic.twitter.com/B7EpXNhg1b

— Sally Deal (@SallyDeal4) October 31, 2019
Some Were All Praises For Trump:
Thank you President Trump!!!

Best POTUS EVER!!!

❤❤❤❤❤ pic.twitter.com/iylIyBCECz

— Pursuing Jesus (@elianatrue) October 31, 2019
Trump Supporters Praised The President:
That's lovely to hear from the historic 45th @POTUS

I love Conan's bravery 🇺🇸 and also he participated more than 50 combat missions for US🇺🇸👏👍

It's great decision by the @POTUS that Conan will soon reaching @WhiteHouse for his Medal 🏅 of Valor award.

A true Brave Hero of 🇺🇸 pic.twitter.com/OT5ARIbA94

— Narayana Reddy. Konduru (@KNReddy_Trump) October 31, 2019
Some Needed Answers:
Did you just retweet yourself and thank yourself?

— Helpmesharpieyourmyonlyhope (@Keanin15) October 31, 2019
Meanwhile, Obama Lovers:
Fixed it. pic.twitter.com/NYd0zCEy3X

— ElElegante101 (@skolanach) October 31, 2019
After Trump tweeted the photo, it went viral making the dog a social media sensation. On Thursday morning, the president thanked the Daily Wire for the altered photo calling it a "cute recreation" and casually confirmed the dog's name. He further said that tge Conan is coming to the White House in November.