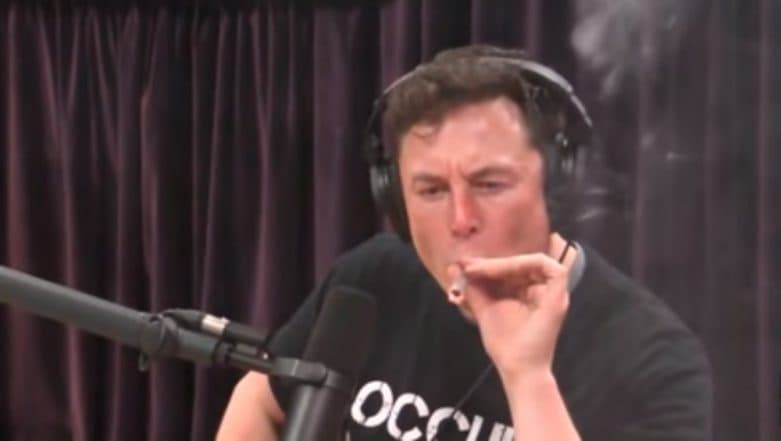 Tesla CEO Elon Musk appeared to talk about his innovations and a wide variety of topics on a podcast Joe Rogan Experience on YouTube. What started as a talk about Musk's designs of aeroplanes and supersonic ideas, also saw him smoking weed and drinking whiskey. The joint, a mix of marijuana and tobacco was offered to Musk by the host Joe Rogan himself. Their chat also had a round of whiskey between them. Elon Musk Wants to Take Tesla Back to Private Ownership, 8 Years After He Went Public. 
Musk has spoken about his hard work and run-around-the-mill schedule in several interviews, which results in him taking sedatives. He admitted that he is not a regular smoker of weed so when Rogan offered him the joint, he asked, "It's legal right?" and then took a drag. Weed is illegal in California, where the podcast was shot. These Countries Have Legalised Marijuana.
Take a look at the video of Elon Musk smoking weed on the podcast with Joe Rogan:
Talking about his innovations and dreams, Musk said he believes in electric cars and utilising the solar energy. He added that his inventive mind was from the age of 5 or 6. "Electric cars are important, solar energy is important, stationary storage of energy is important. These things are much more important than creating electric supersonic VTOL," he said during the interview.
As much he is the master of innovation, Elon Musk has also been at the receiving end of criticism on social media. He has been trolled on Twitter for various reasons, the recent being him calling one of the divers from the Thai rescue team a paedophile. He addressed that point in the conclusion. He tries and keeps himself away from the negativity online. He said, "I think people should be nicer to each other. It's easy to demonise people, you're usually wrong about it, people are nicer than you think."