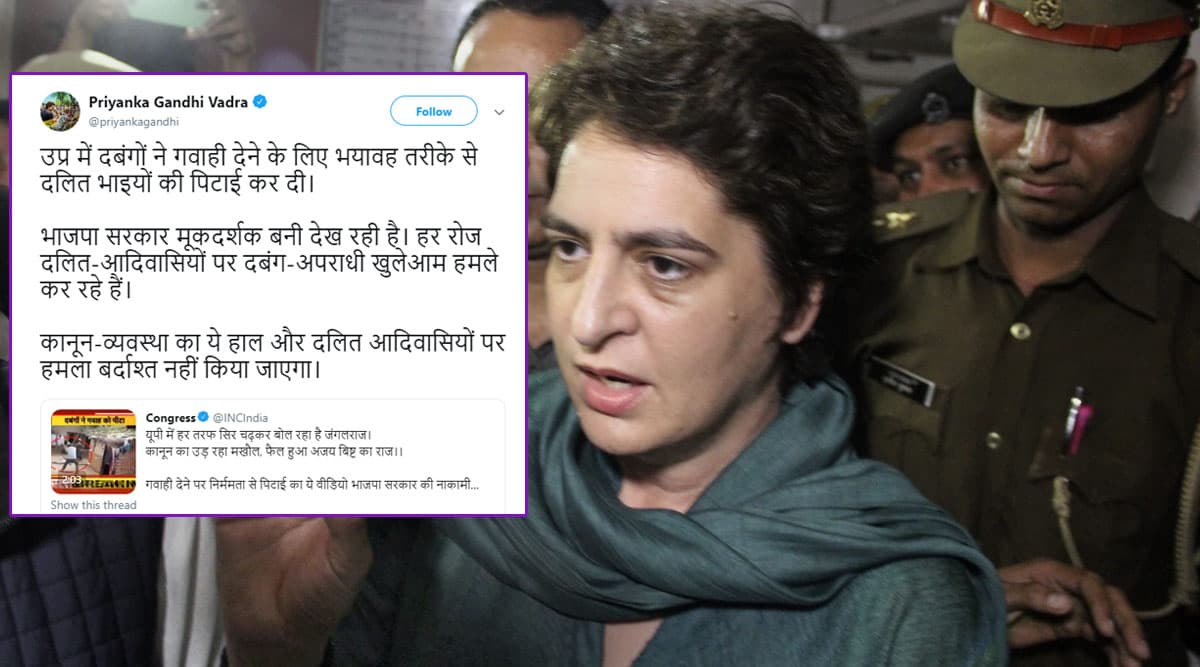 Lucknow, November 7: Congress General Secretary Priyanka Gandhi Vadra on Wednesday alleged that Dalits were beaten up by goons in Uttar Pradesh for testifying against them. Retweeting a tweet posted by Congress's official Twitter handle, Priyanka Gandhi questioned the law and order situation in Uttar Pradesh and accused the Bharatiya Janata Party (BJP) of showing laxity towards atrocities against Dalits and Adivasis. Priyanka Gandhi Slams Yogi Adityanath Government Over Law And Order Situation, UP Police Say Crime on Decline.
"In Uttar Pradesh, goons brutally assaulted Dalit brothers for testifying against them. The BJP government is played a mute spectator. Every single day, Dalits and Adivasis are being openly assaulted by goons. Such a law-and-order situation and assault on Dalit-Adivasis will not be tolerated," Priyanka Gandhi tweeted in Hindi. Congress's tweet carries a clip of news broadcast wherein a group of men can be seen thrashing a youth. Priyanka Gandhi Expresses Grief over Children's Death in Accident UP.
Priyanka Gandhi's Tweet:
उप्र में दबंगों ने गवाही देने के लिए भयावह तरीके से दलित भाइयों की पिटाई कर दी।

भाजपा सरकार मूकदर्शक बनी देख रही है। हर रोज दलित-आदिवासियों पर दबंग-अपराधी खुलेआम हमले कर रहे हैं।

कानून-व्यवस्था का ये हाल और दलित आदिवासियों पर हमला बर्दाश्त नहीं किया जाएगा। https://t.co/C9YcIvHKrj

— Priyanka Gandhi Vadra (@priyankagandhi) November 6, 2019
In the video, a reporter can be heard saying that the youth was assaulted by goons for testifying against them. According to Journalist Anil Kataria, the incident was reported in Mainpuri. Reacting to Priyanka Gandhi's tweet, Mainpuri police issued a clarification and dismissed allegations made by her as baseless. The video shared by the Congress party was actually shot when violence broke out between two families in Mainpuri over cutting of paddy.
Mainpuri Police Issues Clarification:
उक्त खबर का खण्डन किया जाता है कि झगड़ा राजपूत परिवारों में हुआ था। जिसमें अभियोग पंजीकृत कर विधिक कार्यवाही की जा रही है। #uppagainstfakenews @Uppolice pic.twitter.com/Bl4V6sVwYt

— MAINPURI POLICE (@mainpuripolice) November 6, 2019
"We deny the above information. The scuffle broke out between two families belonging to the Rajput community. We have registered a case. An investigation is on," Mainpuri police shot back. Five persons have been arrested in connection with the clash. Mainpuri police urged news channels not to spread fake news.
Fact check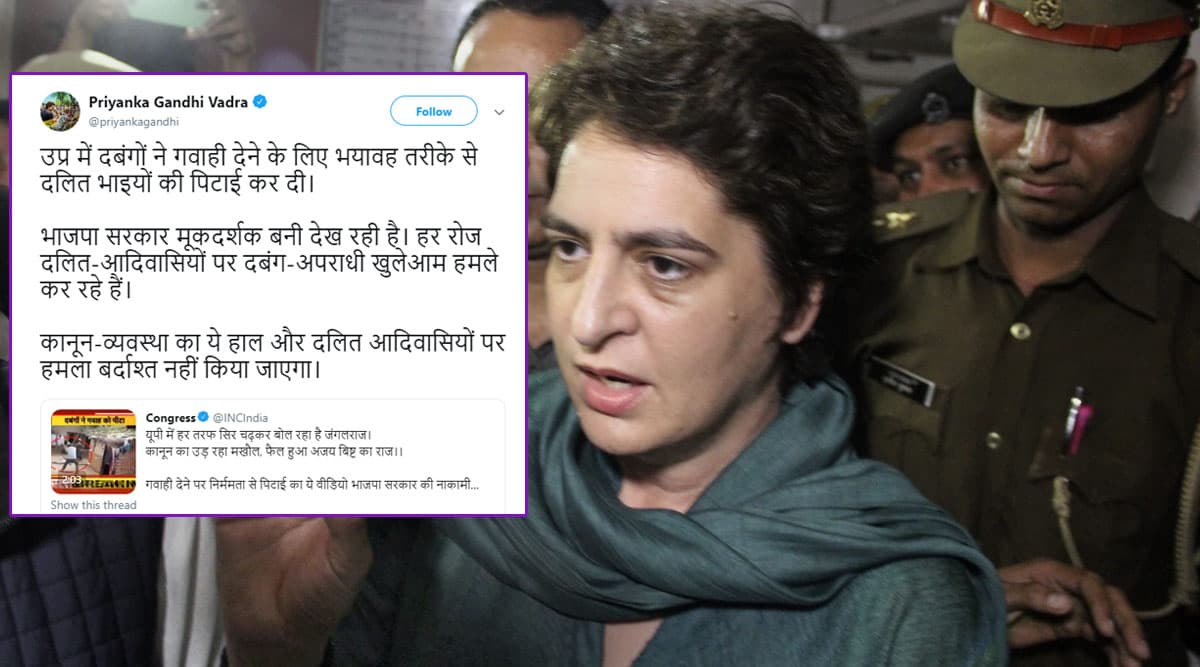 Claim :
Dalits were assaulted by goons in for testifying against them Mainpuri.
Conclusion :
It was a fight between two Thakur families over cutting of paddy.