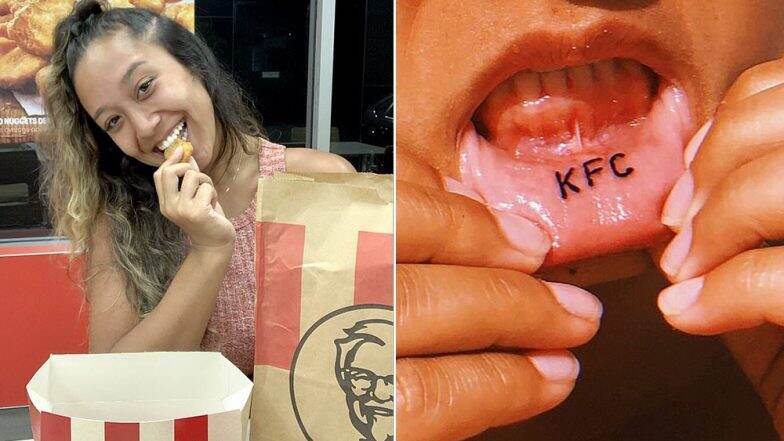 Some people are foodies and then are those who go to the extreme with their love for food. What can you do for your love of burger and fries? To what extent can you go to get a supply of fried chicken? A 20-year-old from Melbourne took her love for KFC to altogether next level by getting the logo tattooed on her lip! Tabatha Andrade inked the three letters on her lower lip and now wants to receive free chicken for the rest of her life. KFC Promises $11,000 to Babies Born on September 9 and Named After Col Harland Sanders.
A super fan of Kentucky's Fried Chicken, she is hopeful that the fast-food chain will now her some freebies of her favourite food. Andrade's decision to get inked might sound reckless but she said that it was a thoughtful one. She discussed it with her family and they told her to get something that was important to her. Talking about her love for KFC she was quoted in a report, "KFC is my favourite fast food. I go there at least once a week, if not more. It does mean a lot to me, so it seemed fitting to get this tattoo. I really love chicken. All my friends call me the chicken connoisseur. I even named my dog 'nugget', because I'm obsessed with chicken nuggets." Will You Engrave a Brand Tattoo or Name Your Kid for Free Food? From Dominos to KFC, Here's a Look at Bizzare Marketing Campaigns.
Watch Video of Girl Who Tattooed KFC Logo On Her Lips
Isn't she the greatest fan to have sustained so much pain? But she said that it wasn't painful. "The tattoo artist laughed so hard when I told him what I wanted. It didn't hurt at all. It only took about two minutes," she said. Her parents thought it was a fake tattoo at first but now they are okay with it. She has no regrets and is totally happy with her tattoo. The idea of getting the tattoo on her lips was inspired by Kendall Jenner.