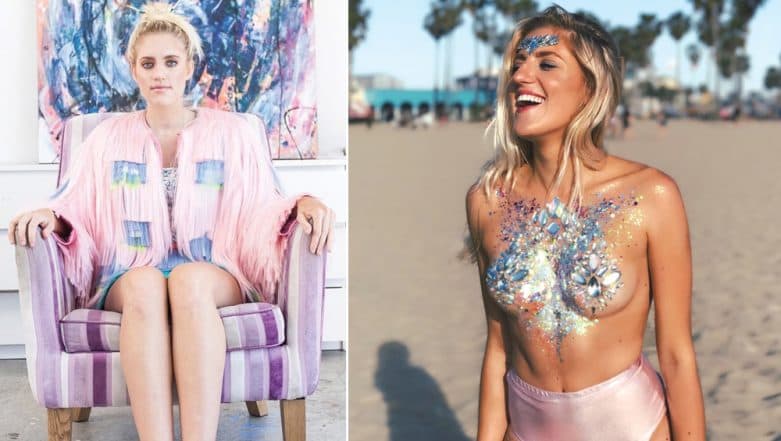 Glitter boobs or disco tits had become a sought after body trend among women two years ago. The creator, 26-year-old from Sophie Tea of Manchester garnered quite a lot of attention in 2017. Photos of Sophie adorned in glitter, colourful gems and stones had gone viral. And the glitter boob photo increased Sophie's followers and her art business flourished.
Her work which otherwise costs between £400 and £2,000 has £15,000 in the last two days alone after it was posted on Instagram. She is now trying to increase her growth and to reach £1million this year. Sophie has a graduate degree in Business Management from Birmingham Aston University in 2016. While she was to start working as an analytical consultant in the autumn, she took a trip to India which made her realise she wanted to be an artist. While in India, she had painted a mural in a hostel in return for a free stay. Sparkling Glitter Pumpkin Butts Are the Latest Instagram Trend This Halloween! See NSFW Pics.
Although, art was her favourite subject in school, she left it after her GCSEs. She told PEOPLE, "I also had a brain and I was pushed into thinking you shouldn't be an artist because you won't make any money. It was the first time I had painted in like six years. I painted a huge colourful cow mural as they're holy in India." On returning, she went to London to learn art and pursue a career in it. UK-Based Artist Olivia Kemp's Pen Art Will Leave You Spellbound!
Here is the photo that made Sophie popular:
View this post on Instagram
She then uploaded the picture of the cow on her Instagram and soon her friends and relatives wanted her to paint pictures of their dog. She said, "Someone would ask me to paint a blue dog, that kind of thing. I made a bit of a name for myself painting these colourful animals, because it was a bit of a niche." Artist Uses Sun and Magnifying Glass to Paint Pictures With Fire, Check Video.
View this post on Instagram
As she was trying her best to grow her business she was approached by Jenna Meek, an acquaintance who was setting up jewellery brand Gypsy Shrine. "While at Coachella, we had the glitter boobs idea. We just took off our tops and put loads of glitter on our boobs. It's actually a bit embarrassing now but my followers boomed after that.' The photo garnered the attention of top celebrities including Ellen Degeneres. Body Painting Artist Johannes Stötter Transforms Model Into a Turtle! (Watch Video)
View this post on Instagram
Her popularity kept on growing with each animal she painted and sold online. She further grabbed eyeballs when she painted and auctioned the painting of a bee canvas after Ariana Grande's concert was attacked by terrorists in Manchester. She also lets people pay her in instalments thus further increasing her client circle.