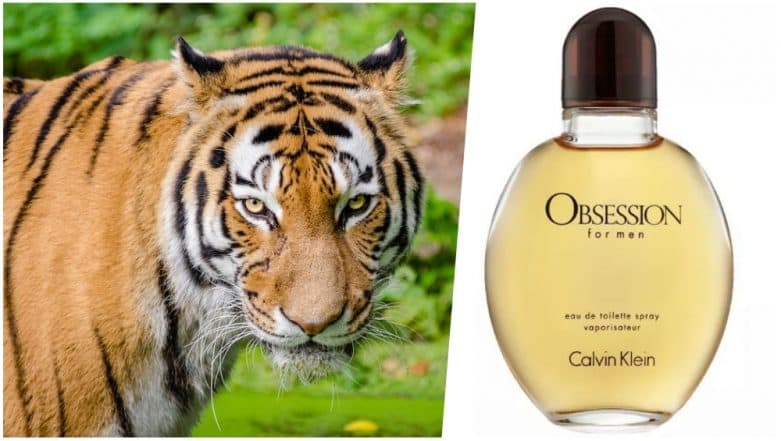 Some colognes are so attractive with their strong smell, that they can even attract the killers among the tigers! Confused? Well, that's the strange truth about trapping a killer tiger in India. For the last 6 months, a man-eater tigress has caused a havoc among the local residents of Pandharkawada area of Maharashtra. The 6-year-old tigress has killed almost 13 people till now. While the forest officials are trying hard to capture the wild man-eater, they have resorted to Calvin Klein Obsession cologne. White Tiger Kills Japan Zookeeper! Man Was Found Bleeding From the Neck Inside the Tiger's Cage at Hirakawa Zoological Park. 
The cologne Obsession for men includes civetone, a smell that is considered irresistible to women. It is a synthetically made compound derived from the glands of a civet. And it is scientifically proven that tigers or rather wild cats can go all crazy in presence of this smell. Opting to the measure, now the forest officers in the state have deployed this cologne in the jungle, as a weapon. Sunil Limaye, one of the forest officials was quoted to The Independent, "I know, it's really funny. But what are we going to do?"
They have tried bulldozers, sharpshooters, camera traps, drone imagery and about hundreds of other soldiers to look through the jungle for this wild cat. With all that not really helping, Calvin Klein's Obsession might just do the trick! A cat expert had told a journal, "Whatever is in that, cats love it. They just seem to be in absolute heaven." Tigers are known to be attracted to a lot of commercial perfumes but the interest levels are higher with this particular brand cologne. Indian Woman Bravely Fights off a Tiger With a Stick, Takes a Selfie After Surviving the Attack. 
Also, if you are laughing about the measure, then it is not the first time such a perfume has been used to trap tigers. Two other tigers have been captured by deploying perfumes. There are strict procedures about tranquilising or killing tigers. The authorities will have to capture her and send her to a refuge. The man vs wild struggle continues as the number of tigers is rising.