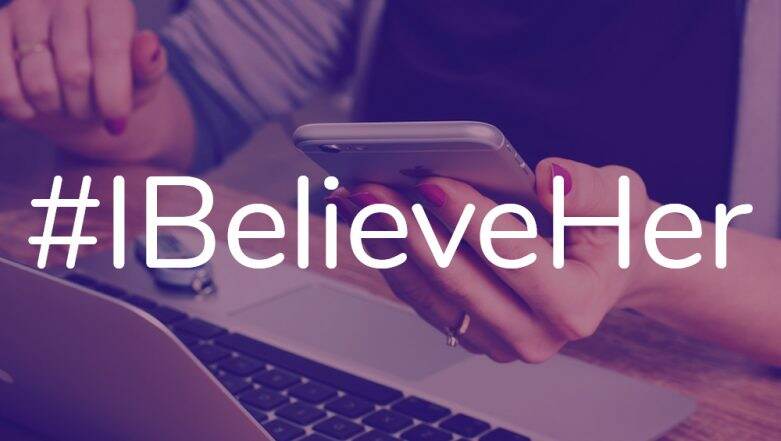 Every year on March 8, the world observes International Women's Day—a celebration of all the amazing women across the globe. The day is dedicated to womankind fight for gender equality. The theme for International Women's Day (IWD) 2019 campaign is #BalanceforBetter. But that's not the first hashtag used in the feminist context. With the popularity of social media, hashtags have stood as a ground-breaking tool to its users across. As tags, they can take on a life of their own, becoming slogans that galvanise social movements and capture millions of attention. Victims, survivors, activists and all ladies have taken advantage of these feminist hashtags as a way to spread a message, to end the silence and to unite. And we have increasing examples, and this tactic has indeed become very popular. So let us take a look at the increasing hashtags that prompted women to come out and speak against the violators. From #MeToo to #TimesUp, here is a look back to the moments when ladies began social media revolution with the powerful hashtags. International Women's Day 2019 Theme: History and Significance of The Day That Promotes Women's Rights. 
We have come a long way, and the credits undeniably go to all the strong women standing together in every struggle fighting against gender discrimination and unjust. Starting from revolutionary #TimesUp to #MeToo to #ThisIsNotConsent to many more including the evergreen #EverydaySexism, feminist hashtags have proved to have tremendous power to shut down misogyny. On the celebration of International Women's Day 2019, let us give credits to all immortal viral hashtags created by her for her. 'Girls Like to Swing' and Other Peppy Bollywood Hindi Songs That Showcase Girl Power!
#MeToo India
Activist Tarana Burke founded the Me Too campaign in 2006, but it did not take off until October 2017, when Hollywood actresses began to use the term on social media to demonstrate the widespread prevalence of sexual assault and harassment. #MeToo hashtags were seen all over the internet exposing famous personalities in Hollywood, including producer Harvey Weinstein, who were accused of sexual harassment. Many were dragged to the courtroom.
After the campaign gained momentum, it even spread in India like wildfire. Bollywood actress Tanushree Dutta ended her years of silence against one of the popular personalities, Nana Patekar, who behaved inappropriately with her on the sets of film Horn 'Ok' Pleasss. Getting inspired by her, many women from the Indian film fraternity and other backgrounds voiced their devastating #MeToo stories of sexual violence that they have gone through.
#ThisIsNotConsent
The Irish courthouse in November 2018 took a disgraceful decision which shook the internet. A 27-year-old man was found not guilty of raping a 17-year-old girl in the Country Cork, Ireland. Reason? The alleged perpetrator's defence barrister Elizabeth O'Connell asked the jury to reflect on the underwear the girl was wearing at the night of the tragic incident. "You have to look at the way she was dressed. She was wearing a thong with a lace front," Elizabeth was quoted as saying in media reports. Using a thong was evidence of implied consent, according to O'Connell who went about victim-blaming.
To protest the Irish house ruling, women not just from Ireland, but across the world began to share pictures of their underwear with hashtag #ThisIsNotConsent. In no time, images of thongs took over Twitter and Instagram. Women came together in support of the teenager and all the other victims, who have been questioned on the way they were dressed during sexual assaults.
#DancingIsNotCrime
#DancingIsNotCrime took over social media after Iranian authorities detained an Instagrammer Maedeh Hojabri for posting dance videos that attracted tens of thousands of followers. Post her arrest, Maedah told reporters that she regretted recording and uploading such clips. Netizens speculated that her statement was forced, and Iranian women began to upload short clips of them dancing with hashtags #DancingIsNotCrime and #FreeMaedah.
#IBelieveHer
The I Believe Her Movement has been around for years but gained much popularity as a response to #MeToo that was started as a way to show support for survivors of sexual assault and rape victims. #IBelieveHer trended following the disappointing outcome of the Ireland rape trial. It also went viral in support of Dr Christine Blasey Ford who accused Brett Kavanaugh of sexual assault. Often people who experience and report sexual or any kind of violence are told the assault was their fault, which then discourages them from reporting future incidents. Women majorly from Ireland and the United States of America, have formed protest crying out #IBelieveHer.
#EverydaySexism
This hashtag notably surfaced in 2015, when author Laura Bates, founder of The Everyday Sexism Project, began encouraging women to share their instances of the sexism enacted against them daily. From microaggressions to blatant misogyny, women came forward to share their experiences of how they are treated differently by men and society as a whole for being a woman. The hashtag has helped broaden the conversation about sexism to include not just outrageous behaviours but also the smallest offences that are so often normalised still have an increasing effect of oppressing women's voices.
#TimesUp
#TimesUp was introduced on January 1, 2018, and has soared in popularity since then. In November 2017, the Alianza Nacional de Campesinas (US organisation) wrote a letter of solidarity to the Hollywood women involved in exposing the sexual abuse allegations against the Hollywood Film producer Harvey Weinstein. The letter published in Time revealed that it was written on behalf of at least 700,000 female farmworkers from the US. Oscars 2018 honoured #TimesUp movement with a special segment and many personalities wore a small pin in support of it.
These hashtags have helped start a revolution, saying that women will never be silenced or oppressed. The accused knew that it's finally #TimesUp for them and women are here to believe and support each other.
Wishing you all a Happy International Women's Day girls. More power to womanhood and equality!