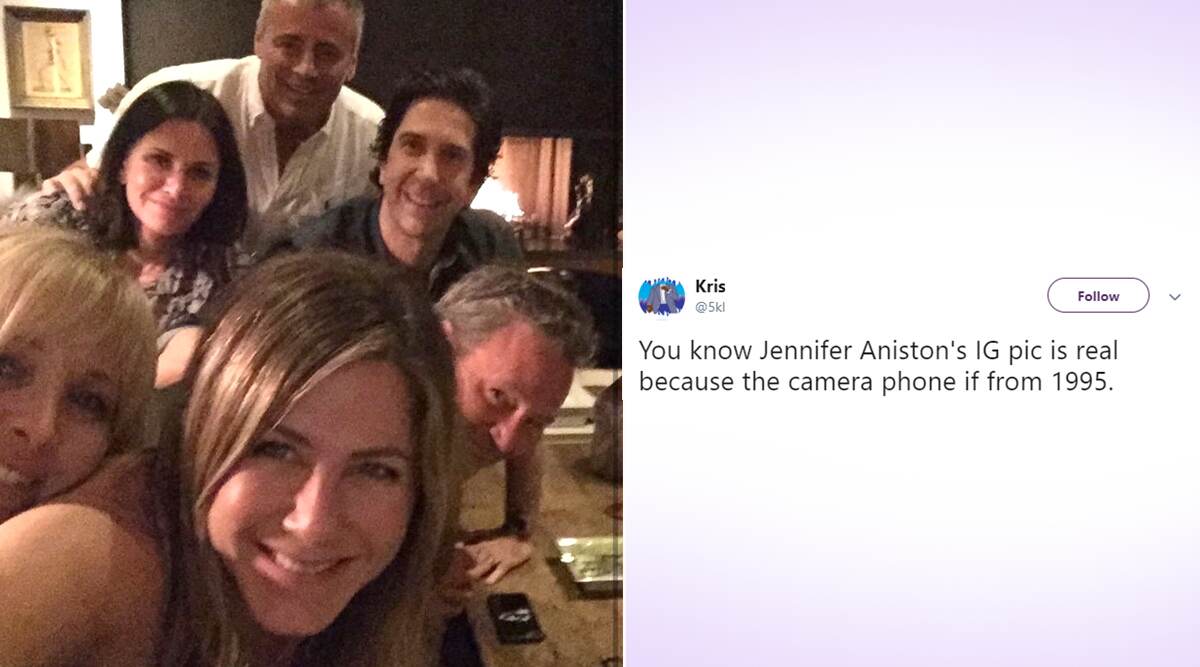 Actress Jennifer Aniston made her Instagram debut yesterday and it was a moment of utter joy for all the fans. Aniston posted a picture with her cast from the popular sitcom Friends and the photo really broke the internet. While most fans rejoiced with the reunion of the Friends crew, the picture quality also became a talk among others. The pixelated photo has got fans also questioning if the actress needs an upgraded phone.
Jennifer Aniston's picture at present has more than 8 million likes and she has garnered 6.7mn followers too. All of the Friends crew also welcomed their beloved Rachel Green on to the social media application. Jennifer posted a sweet caption, "And now we're Instagram FRIENDS too. HI INSTAGRAM 👋🏻" on her selfie. Everyone else also commented with happiness that she's finally on the gram. But the pixelated picture quality also soon became a topic of discussion. Be Rachel Green From Friends! Ralph Lauren Collaborates With the Popular Sitcom to Create Formals Inspired by Jennifer Aniston's Character.
Check Jennifer Aniston's Instagram Debut Picture:
View this post on Instagram
For a true Friends fan who is forever hoping for the show's reunion on screen, this picture was a joyful hope. The cast and crew have grown older but for us, they are the same old Ross, Joey, Pheobe, Chandler, Monica and of course Rachel. A clear picture, however, would have been great right? Check some of the fan reactions.
Back to 1999?
In keeping up with the Friends time-line theme, Jennifer Aniston posts a picture to Instagram that looks like was taken by a digital camera from 1999 pic.twitter.com/V9K8Amqn1t

— K. Scott Gant (@ksgant) October 15, 2019
Jennifer Aniston's first instagram, a bit too 1999 with that camera quality pic.twitter.com/bjtfvlL5hM

— Moe Malik 🔥Commissions open!🔥 (@SuperNerdyGeek) October 15, 2019
Or 1995? Where it All Started?
You know Jennifer Aniston's IG pic is real because the camera phone if from 1995. pic.twitter.com/cuQmxZ36Gc— Kris (@5kl) October 15, 2019
Someone Get Her Better Quality
Looking at my Instagram today ... Someone needs to get Jennifer Aniston a better phone camera ...

— Chaitanya (@chaits89) October 16, 2019
Phone Upgrade, Jen?
I think Jennifer Aniston could do with a phone upgrade. The camera that selfie was taken on is shite.

— Magic Del (@magicdel) October 15, 2019
Because Mathew Perry Denied
Jennifer Aniston: the camera on my phone is fucked, can we use someone else's?

Mathew Perry: no pic.twitter.com/4IYJIIIITx

— David Hughes (@david8hughes) October 16, 2019
One of the fans of the actress wrote in her support, "The people hurting at the resolution of Jeniffer Aniston's camera. Hello, she's Jennifer Aniston, the last thing she's worried about is her camera's megapixels." Well, that's true. But to have her Friends crew all in one frame is a wonderful surprise. Maybe her next selfie would be a better quality one?