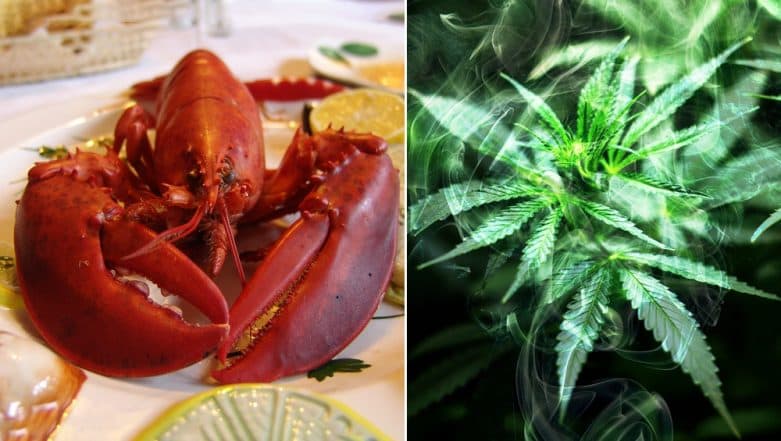 Lobsters meat has a good demand among some sea-food lovers. But in order to make their death less painful, a restaurateur in Maine is infusing marijuana smoke in their hot boxes. Lobsters are usually boiled in hot water or smashed on their heads to kill them and remove the meat. But for Charlotte Gill, a restaurant owner in Maine, there has to be a kinder and humane way of killing them. So she experimented with the effect of marijuana on one lobster named Roscoe. On finding it is less painful for the crustaceans, she has adopted the habit of getting the lobsters high before they are served to the customers. And no, they will not get the eater high. Rarest Lobsters in The World: One in 30 Million Yellow Lobster Found in New England, View Pics!
Roscoe was placed in a box filled with about 2 inches of water. Later some marijuana smoke was blown into the water and covered. On studying the effect, Gill found that the crustaceans are sedated and thus they would experience less pain. Although Roscoe was not killed, she let him back into the sea after the experiment. Charlotte Gill owns Legendary Lobster Pound and it is part of her job to kill the crustaceans as per the customer demand. She wanted to make their 'death' better and kinder. There is now a tank station created outside her restaurant to sedate the lobsters with marijuana, but only as per the customer's request.
She is a licensed medical marijuana caregiver and after studying the effect on Roscoe, it is made into a practice. She was quoted to Islander, "The animal is already going to be killed. It is far more humane to make it a kinder passage." She clears all doubts about her diners getting high due to the infusion. According to her, there will be no residual effect as THC, the component responsible for getting one high is not present in the steamed form. "THC breaks down completely by 392 degrees, therefore we will use both steam as well as a heat process that will expose the meat to 420 degree extended temperature, in order to ensure there is no possibility of carryover effect." What is Epidiolex? Here's Everything You Need To Know About The Marijuana-Derived Drug for Epilepsy. 
Although she has given an explanation, it is far from convincing. There are many questions raised by experts, one of them being THC is not soluble in water. Others state lobsters cannot really smoke and get high since they are known to remove oxygen with their gills. It is unclear if lobsters even have cannabinoid receptors. In some countries like Switzerland and New Zealand, hot boiling of living lobsters is banned. And now this restaurant in Maine is getting them high to make it less of a pain. What do you think about this practice, do you think it really works?