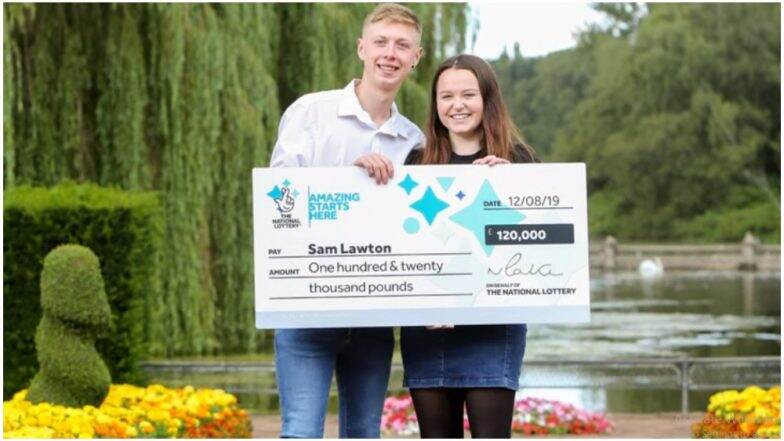 A 19-year-old father from Leamington Spa, Warwickshire is yet to wrap his head around the fact that he just won £120,000 ($145,000) in his first-ever lottery ticket! The teenage data analyst had no plans to buy a lottery ticket, but ended up buying after seeing winner Dean Weymes on TV last month. He bought the National Lottery ticket through a mobile app for £1.50 ($1.80)  on August 12 with no big hopes. And when the results were announced, he couldn't believe he actually. Sam Lawton was in the bath when he saw the winning numbers 3, 20, 26, 27 and 32 which were on the ticket he bought. He will now receive £10k a month for 12 months! Nottinghamshire Couple Go to Buy Cat Food, Return as Millionaires!
Sam who is a data analyst left his job as Army engineer to become a father to one-year-old Noah. Ask Sam his plans to spend the money and he has many. He wants to go on a holiday to New York with his 20-year-old girlfriend Connie Belle, deposit for a new home, spend some on driving lessons. It was Connie's brother Craig, who had been playing the National Lottery for years, who helped Sam buy the tickets and confirmed that they had actually won it.
Watch The Video Below:
The Sun quoted Sam as saying, "It was only an hour, maybe 90 minutes, after I first played when I saw a message on my phone and it said I'd won the second prize - £10k a month for 12 months. We're not really lucky people. We've never had anything like this. It doesn't happen to people like us. It's the ultimate beginner's luck." Sam celebrated his huge win opening a bottle of champagne at a press conference at Coombe Abbey Hotel, in Coventry, England.
Currently, there are three mystery lottery winners in the UK who haven't claimed their money. They only have a few weeks left to claim £1 million. Seems everyone is going to try their luck on National Lottery app after reading the story!