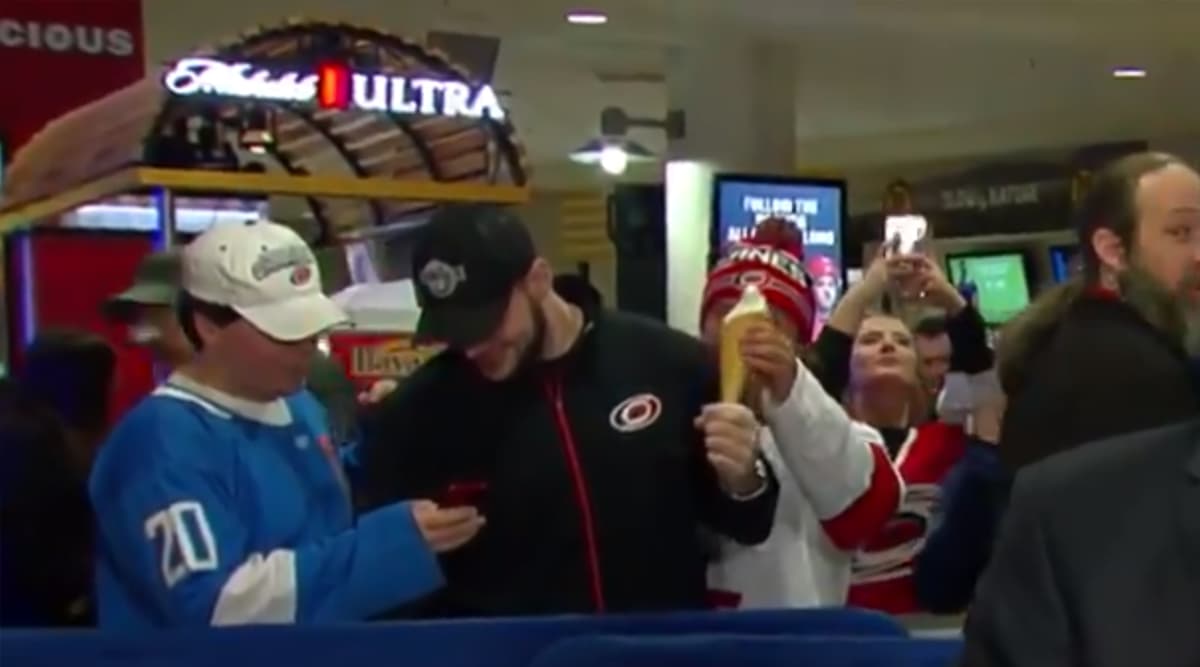 The food always seems tastier at someone else's plate. But stealing them is absolutely an unforgivable sin. Something of that happened live at America's National Hockey League (NHL) match between the Carolina Hurricanes and Ottawa Senators. During the Fox Sports broadcast, a man can be seen standing behind the presenter in the lobby holding an ice cream cone, but busy looking at his friend's phone. While he is distracted, another man approaches from behind and lifts the cone from the victim's hand. The man totally appeared to be unaware. And before he could realise, his ice cream was gone. As the video has gone viral, internet users think it to be staged. Blue Bell Ice Cream Licker Inspires Copycats As Multiple Disgusting Videos of Food Tampering Go Viral. 
The thief was identified as Weston Davis in media reports. With his loot, Davis manages to get lost in the crowd with his loot. Honestly, the sight was hilarious! Social media users are calling Davis as the "greatest heist ever." The moment the victim returns to eating the dessert, he is left visibly baffled as to where it has gone. The video went viral and was soon picked by both the Carolina Hurricanes and Fox Sports.
Watch the Viral Video:
While some lauded the act, calling it the best "ice cream theft ever," others called it to be staged. Somehow the ice cream purchaser was not feeling what was happening around him then looks around with a smile on his face. He even appears to locate the thief as he turned around again, acting confused (acting is the keyword for the moment). Twitter is not satisfied with his puzzled reaction!
The Video is Staged?
Soooo staged

— Ken Meyer (@ApotNc) November 12, 2019
More People Think So!
Fake 👇🏻

— Pierre TREMBLAY (@PierreT55627332) November 13, 2019
Surely That Was:
— Redvolution Rampage Podcast (@RedvolutionR) November 12, 2019
Yes, it is Funny!
that looks so staged but still funny 😂😂😂

— Nope (@CozNasty2Point0) November 12, 2019
Twitterati could be correct as there is a chance that is the whole thing was planned for the cameras. But it is undeniably hilarious to miss. The original clip has received more than 3.6 million views since being shared on social media.