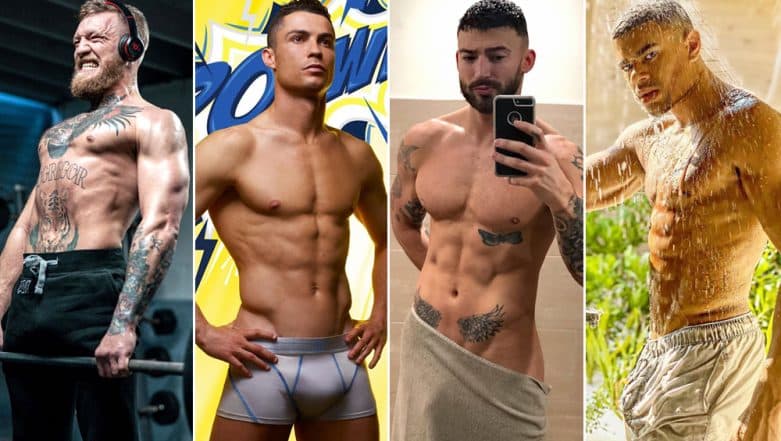 If you thought that NSFW Instagram trends were to take some rest after trends such as Pushback, The Bustie Pose, Blank Canvas, 'Wedgie Rise', 'Straddle Pose', etc that helped the women of Instagram take social media by storm, here we have the latest trend for the males.  Men are showing us their 'hard-ons' via hot selfies on Instagram that are going viral and HOW! The famous, hot, and ripped men of Instagram are flashing their bulges on Instagram as per this viral Instagram trend and fans cannot keep calm about. This NSFW, explicit Instagram craze on social media has even got celebs across the world "indulge in their bulge" and it is left us gasping for breath. Celebs such as Connor McGregor, Jack Fowler and Jake Quickenden are just some of the hunks flaunting their packages in their pants, of course, while the viral trend sweeps social media. Cristiano Ronaldo's Crotch Is Buffing, Thanks to Constant Touching By Fans! Juventus Player's Statue Erected at Museum in Funchal Catches Attention (View Pics)
Take a look at some of the best pictures under the big bulge trend:
Cristiano Ronaldo
To start with we have Juventus F.C. star Cristiano Ronaldo choosing to be the model for his new underwear range- cr7underwear and showing us, *ahem* the real package.
View this post on Instagram
Jack Quickenden
The 30-year old's 'XXX Factor' has left the temperature soaring, after he shared this post-shower picture giving us a glimpse of his package underneath the towel. We're not saying a thing, but his followers, some who even want his to 'drop the towel.'
View this post on Instagram
Wes Nelson
Wes Nelson's shower picture has got the 'Love Island star's' fans breathless. It is pretty 'hard' to 'not look down'.
View this post on Instagram
Conor McGregor
We ain't saying a thing, it's his followers who cannot stop gazing at his #bigbulge!
View this post on Instagram
Finally, we have an NSFW trend for the men on Instagram. Let's see what all 'big surprises' does this new Instagram trend has in store for us!