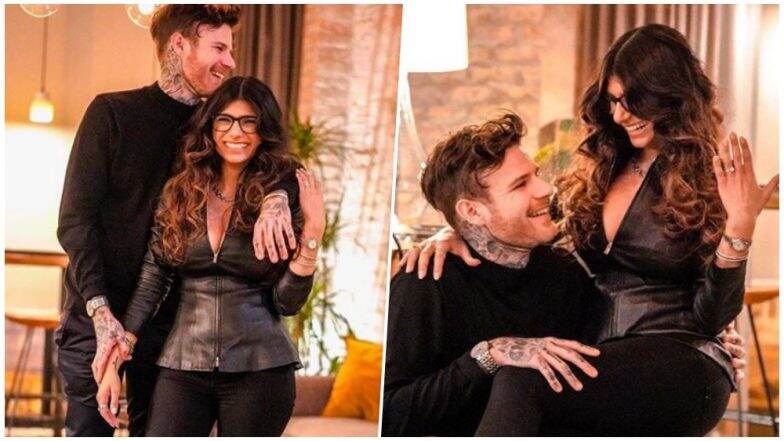 Former porn star Mia Khalifa has millions of fans around the world but while many men only dream of wooing her, she has announced that she's taken! The PornHub XXX star turned sports host announced that she is engaged to Swedish chef boyfriend Robert Sandberg. Sandberg has announced the big news on his Instagram and we are sure a lot of people are heartbroken. Sandberg proposed to her on Thursday, March 14 and it was an instant yes for this hot model. Both of them have announced the big news on their respective social media accounts. Mia Khalifa, Former XXX Porn Star, Shares Glimpse of Her Recovery After Ice Hockey Puck Deflated Her Boobs; View Pics.
A chef himself, he chose a cute way of proposing to his lady love. He hid a ring in a bowl of dried ingredients and called it a 'new serving.' Mia curiously started eating the inedible ingredients when he told her not to. And he slid the ring on her finger. Mia also revealed in a separate post that he hates restaurant proposals so this wasn't something she expected. The two were celebrating because he had got a visa to Chicago. Sandberg really made it special for her. Mia posted a picture of them and thanked everyone who helped in making the proposal possible. She wrote, "Robert has planted the seed so deep in my mind for so long that he hates restaurant proposals so I never, EVER, saw this coming. I love y'all so much! Thank you!" Mia Khalifa, Former XXX Porn Star's Instagram Is a Boob Fest! See Pics of Ex-Adult Recovering From Surgery to Repair Breast Hit by Hockey Puck.
Check Out Robert Sanberg's Post About Getting Engaged to Mia Khalifa
View this post on Instagram
View Mia Khalifa's Post Making The Big Announcement
View this post on Instagram
Mia was definitely happy about the proposal and expressed it all on a separate post. She thanked the restaurant who helped to make this proposal possible for Sandberg. In a series of pictures, she also showed off her ring.
View this post on Instagram
The ring that Sanberg gave Mia is the one that she had tried in Stockholm, when she went to visit him for the first time. He remembered the design and customised it for her. He has now moved to America and the two were celebrating the very occasion when Sandberg popped the question. So this proposal is indeed very special for the couple. The couple has been dating for a year now and keep posting pictures of themselves on their social media.