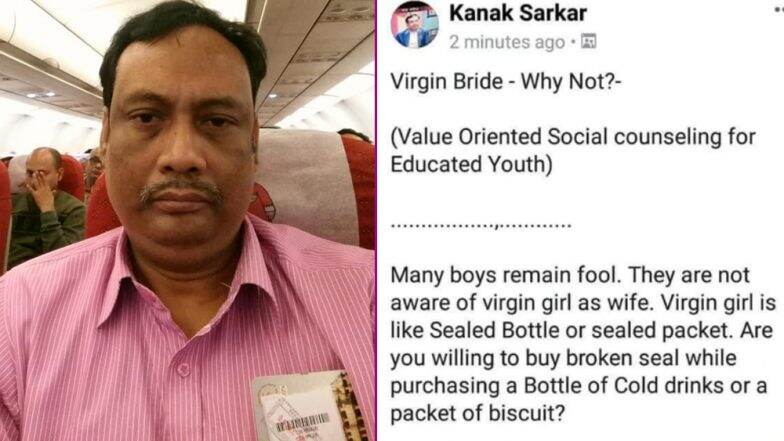 In a piece of recent controversial news from Kolkata, Kanak Sarkar professor at the prestigious Jadavpur University of Kolkata has been called out for his offensive posts on Facebook. He posted several FB posts about women's virginity that are extremely sexist and misogynistic. In his infuriating post, he has not only compared women to mere packets and bottles but also showered  generously his patriarchal knowledge about the benefits of having a virgin wife or girl in life. Egypt: University Expels a Female Student for 'Hugging Man' in a Viral 'Proposal' Video.
In a now deleted post, Sarkar wrote- "Are you willing to buy a broken seal while purchasing a bottle of cold drink or a packet of biscuits?" and said that "boys remain fools" for not knowing virgin girl and wife. He further said that a girl is born "sealed" and that a virgin wife is "like an angel."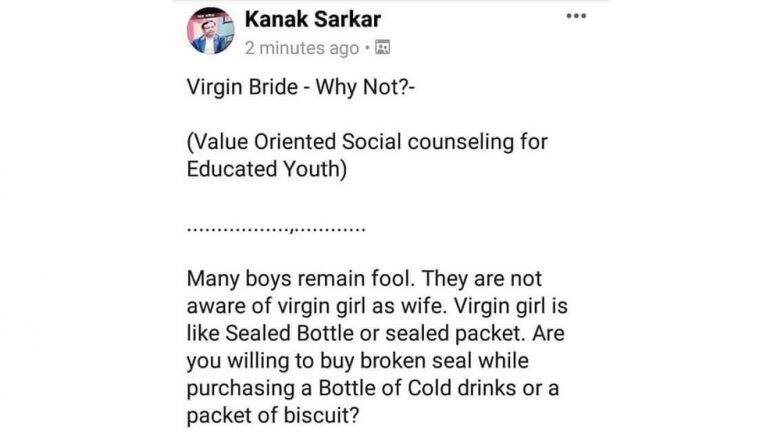 The professor is said to have over 20 years of teaching experience and a doctorate, successfully proving that education doesn't change a sick mentality says that, "A girl is born sealed from birth until it is opened... A virgin girl means many things accompanied with values, culture, and sexual hygiene [sic]."
In another cringe-worthy post, he put up on Facebook on December 22, began with a "virginity is also dignity" and also mentioned that it is a matter of pride for a woman if is a virgin before marriage. He wrote- "Express your virginity during marriage negotiation or during love affair or even in married life. I am sure you will be honoured by your husband or lover." He went on to say, "Every man respects and aspires for a virgin wife. To the men folk, virgin wife is like angel. Women should know this fact," Sarkar said [sic.]."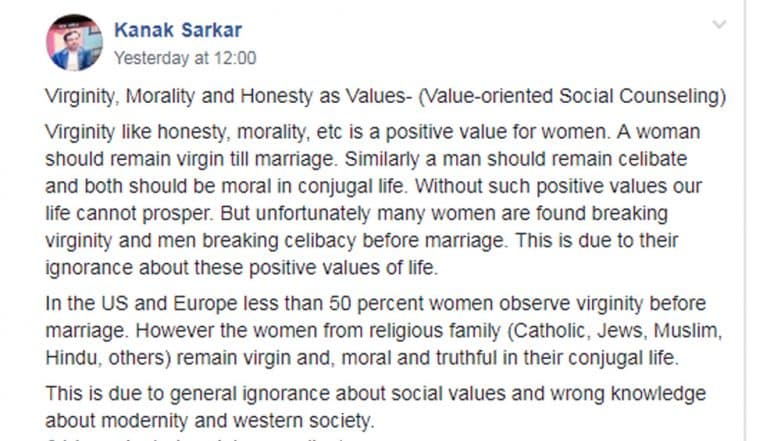 Sarkar didn't shy away from citing the Japanese as an example of a "progressive and developed" society by saying, "They proudly claim that 99 percent Japanese girls remain virgin till marriage. Japanese society is so progressive and developed."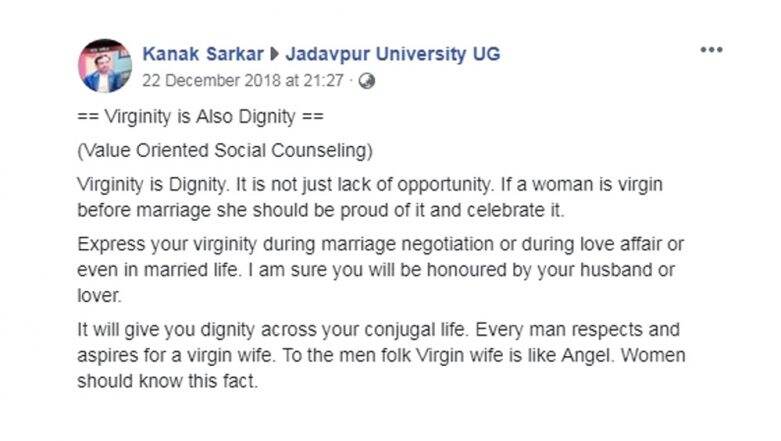 At the moment, the desperate attempts of Sarkar trying to hide his views are clearly visible. He hasn't only deleted the past posts that he firmly believed earlier but is also posting again and how in the past he has been in all support of women. In one of his latest posts he wrote, "Supreme Court has repealed section 66 A of IT Act and given freedom of expression in Social Media. When Taslima Nasrin wrote against a particular religion we supported her Freedom of Expression. We are supporting Bengali Poet Srijato who writes about Hindu Gods. I have not written anything against any person, individual or anybody without any evidence or proof or any reference. I am doing social research and writing for the good and wellbeing of Society. The recent post I have given in "Kalom" and "Mukto Kalom" public group only. Many are sharing screen shots. I request not to confuse. It's everybody's right to express his / her thoughts. I have given many posts for and in favour of women. Can verify them in my Timeline."
With Facebook posts having glaring flaws and sick mentality, this professor has been doing this from a very long time. While Kanak Sarkar deleted many of his posts, screenshots of his misogynistic views are already viral. The University Sarkar is associated with- Jadhavpur University- holds a prestigious name and the university should have looked into the matter even before his posts going viral. However, one of the Asst. Professors have taken note of the whole issue and have assured on Twitter that he will take this matters up to the authority.