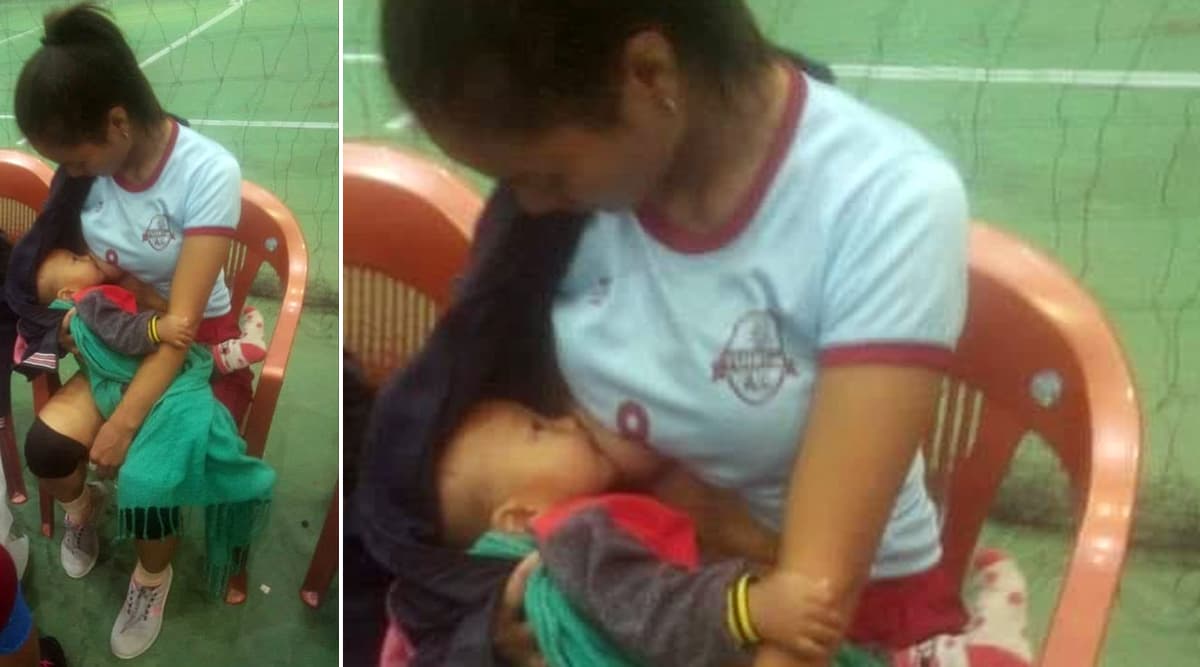 Breaking the stigma around public breastfeeding, many women have proven that breastfeeding is a beautiful moment of life that can take place regardless of the place. Right from the Australian MP breastfeeding in the parliament to this picture of a volleyball player in Mizoram breastfeeding her baby in between a game they have always meant so much more than just a normal viral picture. The player breastfed her baby on the field and now the picture is melting hearts all over social media. In the picture, you can see the woman at the playing ground with her little one in her arms, breastfeeding the baby. The image was shared on Facebook by Ninglun Hanghal who also wrote that the original source is Linda Chhakchhuak in the credits.
It has been learnt that the volleyball player's name is Lalventluangi, and she is from the Tuikum Volleyball Team. She had enrolled herself in the players' camp along with her seven-month-old baby and in between a game, Lalventluangi took a short break to breastfeed her child. Somebody took the pictures and shared them on social media with a long and inspiring message.
In the post, the picture was called, "a stolen moment" that the mother took  "to feed her 7-month-old baby in between a game was captured making it the picture mascot of the Mizoram State Games 2019." The post further read,  "Lalventluangi, volleyball player from the Tuikum Volleyball Team got admitted into the Players Camp with her baby. The picture has gone viral with people lauding her for her attitude of dedication and courage taking along twin responsibilities of a sportswoman and motherhood in her stride. Seeing this picture the sports minister of the state has decided to award her a sum of Rs.10,000/- as a token of appreciation a pittance really for her inadvertently becoming such a powerful image of positive motivation."
Check Post:
This reminds us of the Malayali writer Gilu Joseph breastfeeding pose on the cover of Grihlakshmi magazine that went viral instantly. But unfortunately, the progressive step towards de-sexualising breastfeeding was criticised big time.