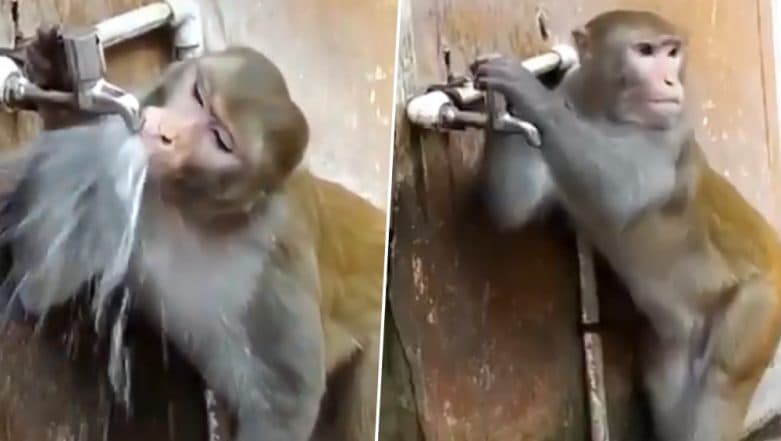 Monkeys have shown behavioural attributes quite closer to humans, as per clinical research but some monkeys have surpassed human intelligence and humanity already! Just like this monkey whose video is going viral for closing the tap after drinking water, something that most of the times even humans forget. Netizens are totally smitten by the way the monkey was responsible enough to not leave the tap running after drinking water. The video was shared by a Twitter user who goes by the handle name Dr S.Y. Quraishi. He shared the video with a caption that read, "What a beautiful message for humans!" Indeed, the monkey did send across a vital message unintentionally. The video is going viral ever since it was uploaded with Twitterverse completely in love with the monkey. Elephant Throwing Litter In Dustbin Is All The Friday Motivation You Need And Parineeti Chopra Agrees; Watch Video.
The video shows a thirsty money drinking water from a running tap and then once he is done(you can see the content on his face) he shuts the tap like an intelligent mind. Humans really need to take notes!
Watch video:
What a beautiful message for humans! pic.twitter.com/wTgK4b9uGF

— Dr. S.Y. Quraishi (@DrSYQuraishi) August 1, 2019
Check reactions:
Monkeys are more sensible and responsible than human.

— Chandra Babu (@babuchandra01) August 2, 2019
True
Yep...they need it and value it more than the idiots that humans have become

— Jerry (@JaiSangwan6) August 2, 2019
Indeed
Monkeys are very emotional ,responsible and disciplined !!

— elan (@cne1963) August 2, 2019
Yes
He's excellent, take example of him instead of massacring Muslims !!!

— Ayelle أيال (@AugusteAyelle) August 2, 2019
Really
They prove the reverse theory that evolution was from man to monkey

— Ameen Izzadeen (@ameenizzadeen) August 2, 2019
Food for thought?
We might have evolved mentally and physically, but we haven't evolved responsibly.

— bharat : sharma (@boynamedbharat) August 2, 2019
We need more conscious humans
Conscious monkey!!

— tharun sanaka (@tharun_sanaka) August 2, 2019
What do you think about the video Twitter is calling the monkey "smart", "responsible" and "more human" in all their comments. In this day an age water conservation needs our prime attention but looks like monkeys are more aware than us humans!