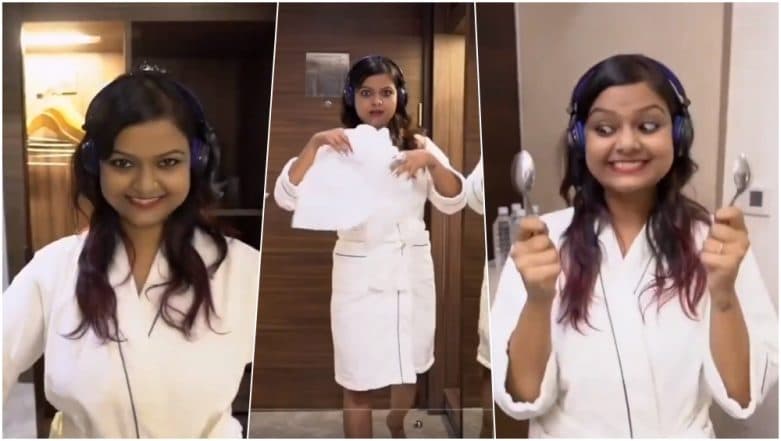 The viral video of the Indian family who tried to steal hotel room supplies from Bali hotel caused quite an outrage, with people even calling them a national disgrace. While the video caused outrage online, travel portal ixigo found a right opportunity to bask in the glory and they shared a video of what stuff can be taken from a hotel room. While it was an old video, it picked up its pace with the time being just perfect. Now as the video is also gaining more views online, people also want to know who is the girl who has acted in the video, "Stuff you can take from hotel rooms?" And as more and more people look for the identity of this girl actor, let us tell you about her. She's Ria Dutta, a content analyst with ixigo. And looking at growing searches for her identity, it may be the time to forget the Trivago guy, Abhinav Kumar and the ixigo girl Ria Dutta to come in. Watch Video of Indian Family Stealing From Bali Hotel Rooms.
ixigo made a perfect video showing what can be taken from hotel rooms and what cannot and it is Ria Dutta's expressions which work in favour of the video. As ixigo shared the video on their Twitter account recently, people are loving her work. A student of Amity University, Noida she currently works as Content Analyst with Ixigo. Who Is the Trivago Guy? 5 Interesting Things About Abhinav Kumar, Who Appears on Hotel Booking Portal Ad.
Watch Ria Dutta's Video on Stuff You Can Take From Hotel Rooms:
Hey, have you seen the video yet? 1.1 million views already :D

Please share, comment like do whatever!

Just don't forget to tag me while you share the video <3

Thanks in advance 😍#newvideo #ixigo #1millionviews https://t.co/5Yz6j5PTjh

— Ria Dutta (@HI_I_M_RIA) June 18, 2018
Back in 2018, the video had crossed over a million views and after being reshared it has been done well once again with over 12 million views. Is it good to say that Ria Dutta is the new ixigo Girl, good to move over from the Trivago Guy?
The Trivago ads that come on TV also gained a lot of traction because of the actor Abhinav Kumar. You can almost hear him saying, "Kya Aapne Kabhi Online Hotel Search Kiya Hain?" Kumar who is the Country Manager for Trivago plays a vital role in brand recall for the company and looks like its Ria Dutta who will be next in line for ixigo. Well, kudos to her, what do you think?