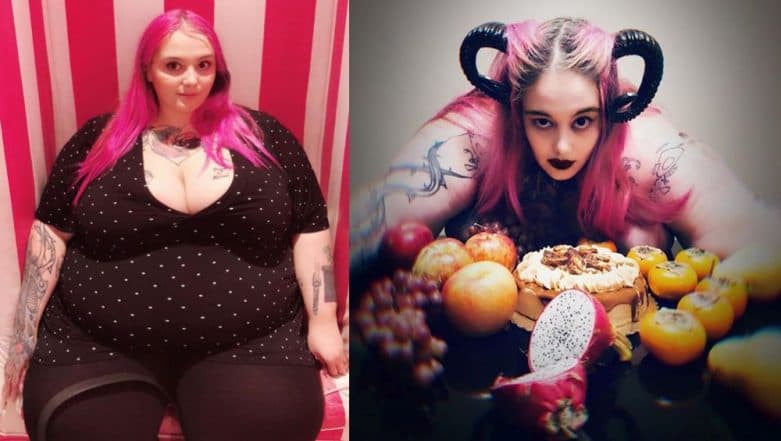 A 26-year-old nude model from the Azore islands off the coast of Portugal, binged on burgers and junk food to gain 304 pounds (about 137 kg) in three years. She dreams of becoming the world's heaviest woman and is gorging on junk food for that. Called Lilith the Cenobite, this woman is a web model, and according to NY post she says that some people see her as a 'goddess.' She wants to become the heaviest woman ever according to the Guinness Book of world records. She is only 26 years old and is merely gaining weight to called the heaviest woman in the world. She says that where she grew up food wasn't readily available and that in her teens she struggled with an eating disorder. Swedish Glamour Model Eats 6 Kgs of Nutella to Achieve The World's Biggest Bum! (See Pictures and Videos).
The NY Post says that she saw food as "a forbidden thing that shouldn't be enjoyed." However, when she was diagnosed with terminal hepatic encephalopathy in the year 2015 the food-related fear and guilt vanished. It was because of the shocking diagnosis that her way of thinking changed. The reports further say that she soon discovered an online community called 'Feedism' that was all about gaining weight to fulfil sexual fetishes.
Lilit says that she only eats when a feeder feeds her. She went from 112 pounds to a whopping 416pounds in just three years. She now dreams of beating the existing record holder of the heaviest living woman who weighs about 643 pounds and the record for the heaviest woman ever is 1,190 pounds. Take a look at a few of her pictures.
Here's one of her pictures eating.
She also posts pictures of herself with nothing but just food all over her.
She uses hashtags like belly fetish, eating fetish, weight gain fetish, cellulite fetish, etc. Do you think at this rate she will be able to become the heaviest woman? Let us know your views in the comments section below.