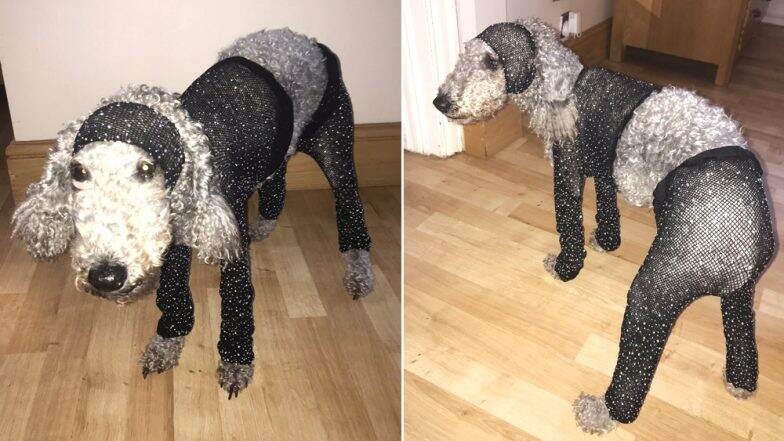 Online shopping is sometimes a risk if you do not know the exact size. While most brands have a uniform size, you cannot assure it will be a perfect fit. The internet has seen enough of fashion bloopers with women getting delivered the wrong size and feeling helpless. But one woman named Callie Conway made the most of receiving small size clothes. The outfit was just big enough to fit her pooch. She made her pet dog Charlotte wear the outfit and put up her pictures on social media. Woman's Boobs Left Exposed After She Ordered a Ripped Crop Top from Online Retail Store PrettyLittleThing, View Pic.
Callie Conway spent £40 on an outfit she got from Depop which she wanted to wear on her trip to Ibiza. It was mesh leggings, a crop top along with a matching headband. It did not fit her size and she decided to make her pet a model. And the pooch makes for a good model, no doubt! The picture of her pet went viral on social media and people are clearly loving the outfit on the dog. Online Fashion Store PrettyLittleThings Wins Hearts by Showcasing Clothes in Two Different Body Types.
Check Pictures of Pet Dog Wearing Her Owner's Small-sized Outfit
So i bought a UK SIZE 8 outfit for Ibiza and this arrived... fits my dog better than me 🙂 fancy a hol Charlotte?? pic.twitter.com/Jd1N2Vr6yP

— Callie Conway (@Callie_conway1) March 6, 2019
The pictures have got over 57,000 retweets and liked more than 3 lakh times. And Conway also expressed that before anyone comments on the dog feeling uncomfortable or talk about animal cruelty, it is not so. She also posted another set of pictures showing Charlotte dressed in other outfits. So the pet seems to be quiet used to the idea of dressing up.
And for those calling her ugly, im just gunna leave these here... pic.twitter.com/KIj8BU3sLI

— Callie Conway (@Callie_conway1) March 7, 2019
We can surely call Charlotte a good model. Other pet owners were also encouraging and put up pictures of their own pets dressed in different outfits. Online shopping cannot be too bad after all, if you are a pet owner.