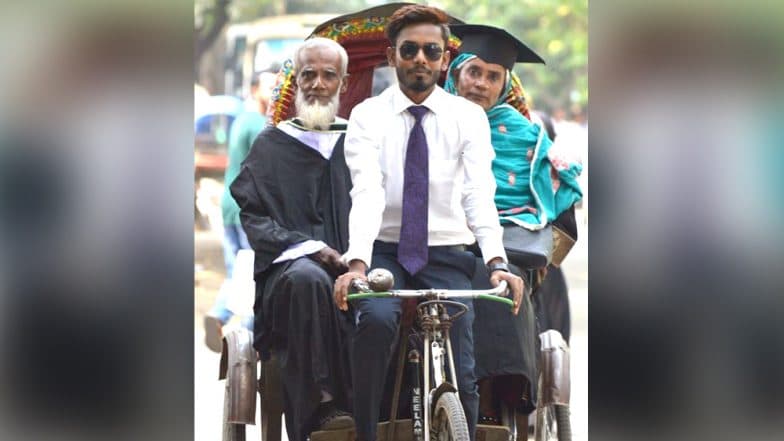 A heartwarming photo going viral on social media shows a son riding his father and mother on a rickshaw while returning from his convocation ceremony. Wali Ullah rode his parents home on a rickshaw. His father sitting behind can be seen wearing the convocation gown while the mother wears the black square academic cap. According to Wali's Facebook profile, he graduated as an accountant from Accountancy & Information Systems at the University of Dhaka in Bangladesh.
Wali took to Facebook sharing the picture with his family on October 4, 2018. He posted the picture with the caption: "My mother is the crown of my life, that's why the convocation cap is for her. My father protected me from all harms throughout my life, that's why the convocation gown suits best in the sweat-soaked body of my farmer father."
Here is the photo:
Wali's father is a farmer and he belongs to Narsingdi district in Bangladesh, near the capital Dhaka.  The Facebook page of Dhaka University Campus shared the photo of Wali with his parents. As the photo was massively shared on social media, certain wrong information relating to Wali went viral too. Tweets claimed him to be an engineering graduate from India and his father to be a rickshaw puller.
Internet users stated that his name was Hisamuddin Khan and by riding his parents on a rickshaw he was showing gratitude. Former cricketer Virender Sehwag was also among Twitterati who backed the information. Here is his tweet: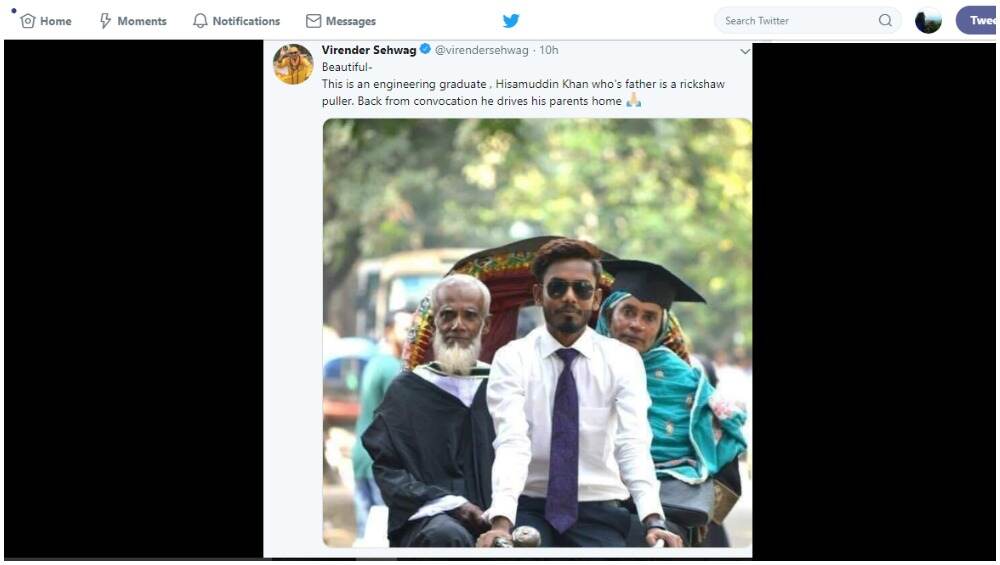 Following which, Wali took to Facebook to clear the air. In the post, he mentioned that his father is a village farmer and that he doesn't know how fake details of him spread so widely.
Here is his Facebook post:
As the photo went viral, social media users commended his thoughtful act. The comments section of the post is filled with praises for Wali. Meanwhile, a similar photo claiming to be an IAS topper taking her father on a ride on a rickshaw puller had gone viral. The photo garnered interest after Congress MP Shashi Tharoor shared the photo on his Twitter account. However, the incident wasn't it, the girl in the photo is a travel blogger who had posted the photo as she wanted to try a hand at it after being amused by rickshaw pullers since her childhood.