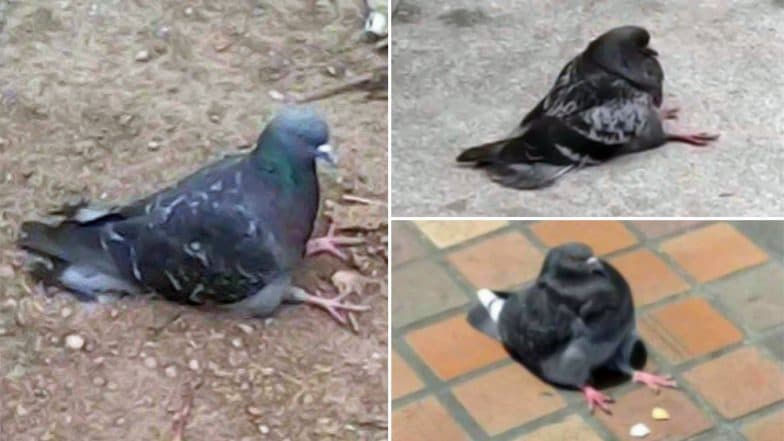 Animal photos are anyway delightful to look at, let alone pictures of them trying to act like humans, which they do, knowingly or unknowingly. Usually, we have seen dogs or cats imitating humans. However, like a breeze of fresh air, here are pictures of pigeons sitting like humans are breaking the internet. People cannot get enough of these cute pictures of pigeons sitting like how a human would sit. Twitter, Facebook and Instagram are flooded with images of pigeons from all across the world sitting like humans resting their feet out. Love Feeding Pigeons at Gateway of India's Kabutarkhana? BMC Bans Feeding Birds Under 'Swachhta Hi Seva' Campaign.
Take a look at some of these pictures:
googling pigeons sitting: a timeless favourite of mine pic.twitter.com/fHA4A9ghpY

— georgie (@gggdesuys) February 7, 2019
Here's another one:
pigeon sitting down pic.twitter.com/6WFx7PaMVl

— Harold (@cineweeenie) February 9, 2019
They look depressed
sitting pigeons look so depressed pic.twitter.com/VLfL3ciLdI

— daddy hicks (@thedaddyhicks) February 11, 2019
They do look cute but at what cost?
My life is complete. Here are pigeons sitting. pic.twitter.com/l76YlgORe8

— Megan (@___megs) February 11, 2019
They look so relaxed and chill that you will want to keep looking at them. They are so unbothered that they don't mind humans clicking pictures of them. However, the reactions are mixed. Some think that it is one of the best sights of their life while some seem concerned and point out that they look "depressed."
The reason behind the pigeons not posing like they naturally would and sitting on their butts may be a cause of concern. There is a possibility that they are not okay. Sometimes it is said that pigeons sitting like that could be a signal that they are seriously sick or almost approaching death. They could also be suffering from, a common pigeon disease that could be damaging their legs. Their limping and flying could be possibly hampered by salmonella infection.
While the guesses are innumerable one of the closest guess could be an Avian Paramyxovirus type 1 (PPMV1.) This kind of virus usually causes pigeons to feel lethargic, reluctant to fly and also ruffle their feathers. This kind of virus could even cause the pigeon to die in less than 72 hours.