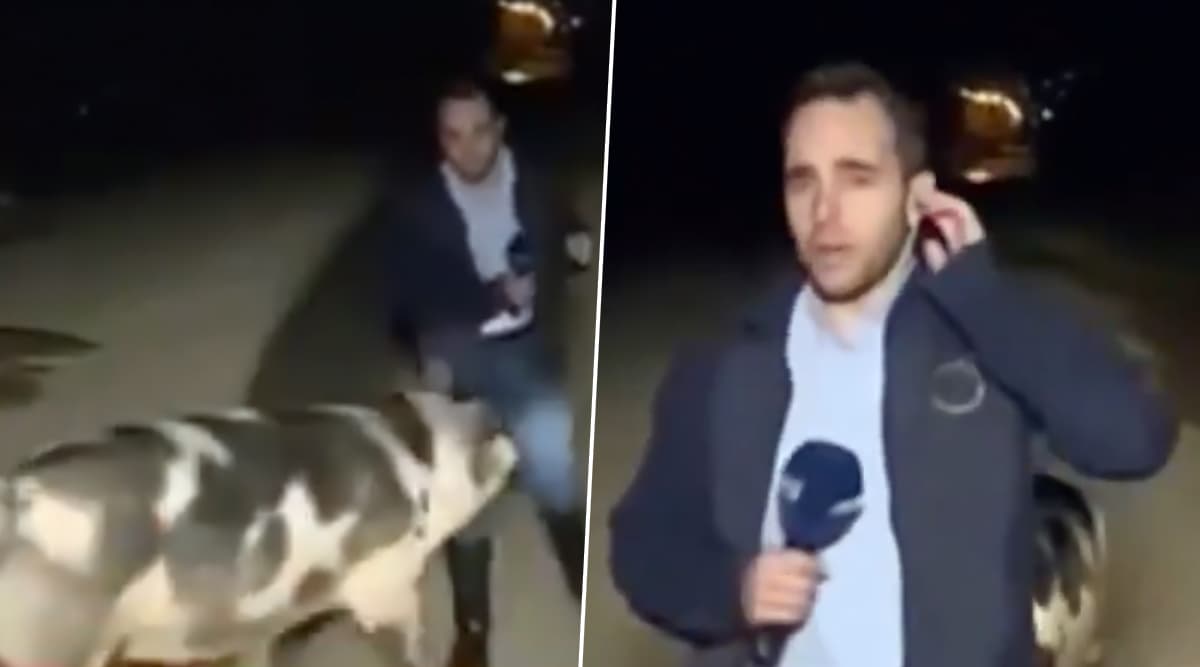 The job of a reporter is quite a tough one. From difficult terrains to dangerous situations, they encounter an array of issues while doing their job daily. While that's the nature of the job, at times things go completely out of hand. And a journalist recently had to encounter one such incident while reporting from the ground. Lazos Mantikos was live reporting on the damages caused by flood in the Greek town of Kineta, when a pig chased him down. While the incident sounds a little funny, we are sure Lazos had a terrible time dealing with the animal. Bird Lands on News Anchor's Head During Live Broadcast, Reminds us of These Videos Where News Presentators Remained Calm.
The local pig wandered into the area where the journalist was reporting and began to pester him. "Good morning, we have an issue," said Mantikos on the Good Morning Greece show from CNN affiliate ANT1. He continues, "Giorgos, can you hear me? We have a pig here that has been chasing us since this morning ... folks, sorry, I can't stand (still) because it's biting me." 7 Funny Reporting Videos From Pakistan.
Pig Chases Journalist Reporting on Floods:
Greek journo pestered by a pig while reporting on the recent floods in #Kinetta #Greece #tv #bloopers #ant1tv #Ant1news pic.twitter.com/vsLBdlWCMB

— Kostas Kallergis (@KallergisK) November 26, 2019
While Lazos had a tough time, his colleagues couldn't stop but laugh at his state. In the footage shared by CNN, the pig can be seen chasing Lazos and his team for a long time. Lazos was reporting about the seaside town west of Athens where the road network has been terribly damaged by rockfalls, when the incident occurred. Studio journalist Giorgos Papadakis can be heard saying, "Lazos, because it's a tragic issue and we are counting our wounds in Kineta, try and work things out with the female pig."