In a brutal terrorist attack, over 40 Central Reserve Police Force (CRPF) personnel were martyred in Pulwama district of Jammu and Kashmir. As the nation mourns the death of our soldiers, a Surat-based couple has cut down their wedding celebrations remembering those who laid down their lives for the country. Sheth and Sanghvi families from Surat have cancelled grand wedding functions that were arranged for their daughter and son, Ami and Meet.
The families donated a total of Rs 16 lakh of which Rs 5 lakhs was given to various NGOs and Rs 11 lakhs to families of the soldiers. A message was circulated among guests who were invited for the wedding about the cancellation of the celebrations. They also mentioned that the wedding will be held in a simple manner considering what has happened in Kashmir. Pulwama Attack: Pay Real Tribute by Donating Money For Bravehearts Via 'Bharat Ke Veer' App or Online at bharatkeveer.gov.in.
It reads: 'Due to the terror attacks in Kashmir today that killed 42 jawans, both the families have mutually agreed to postpone the marriage to the next day. The programme of lunch is cancelled and instead, Rs 5 lakh will be donated in the welfare of soldiers and 11 lakhs for the families of martyred soldiers.' Pulwama Attack: Prime Minister Narendra Modi Pays Tribute to 40 CRPF Personnel Killed in Suicide Car Bombing, Watch Video.
Here is the message that the family circulated after their decision to cut down the celebrations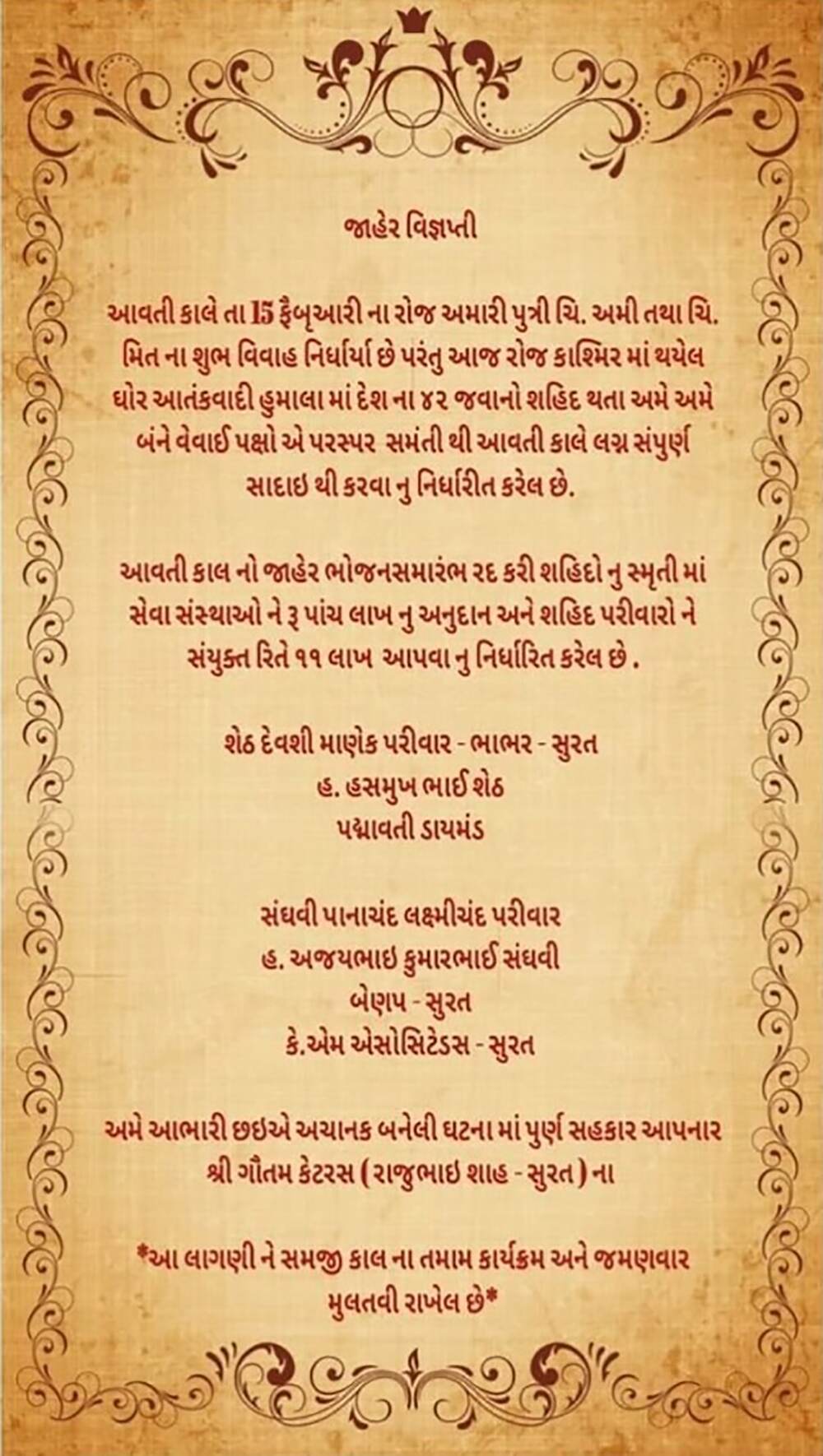 Surat family (Photo Credits: @kumarmanish9
In the circular, they also thank, wedding caterer, Shree Gautam Caterers by Rajubhai Shah for respecting their decision and supporting them. Both Seth and Sanghvi family are in the diamond businesses, Padmavati diamond and KM associates. On Thursday, a truck laden with explosives rammed into a CRPF convoy in Pulwama killing soldiers. Jaish-e-Muhammad (JEM or Army of Muhammad), a Pakistan-based armed group claimed responsibility for the suicide bombing. Pulwama Attack: List of 42 CRPF Jawans Who Were on Bus Attacked by JeM in Jammu & Kashmir.
On Friday, Prime Minister Narendra Modi attacked those responsible and said they will pay "a very heavy price" and security forces will be given a free hand to deal with terrorists.  While flagging off the Vande Bharat Express, India's fastest train from Delhi to Varanasi, Modi said, "Security forces have been given complete freedom, the blood of the people is boiling...Our neighbouring country, which has been isolated internationally, thinks such terror attacks can destabilise us, but their plans will not materialise."
(The above story first appeared on LatestLY on Feb 15, 2019 07:20 PM IST. For more news and updates on politics, world, sports, entertainment and lifestyle, log on to our website latestly.com).