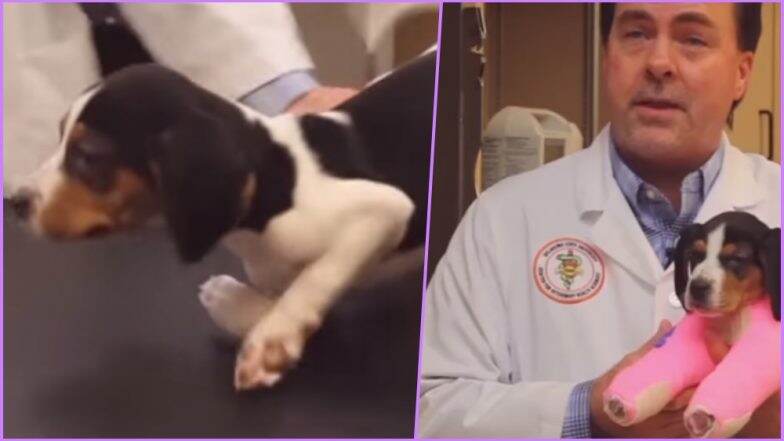 An Oklahoma puppy who was born with upside-down paws is recovering from surgery to lead a regular life like any other pups. Thanks to a doctor in Oklahoma State University's Veterinary Center! Identified as Milo, the five-week-old hound puppy had front paws that turned upward instead of down. The OSU's veterinary experts performed corrective surgery on the pup, and the doctors said that the little one would recover soon. A short video has been circulated in the social media platform, and the internet users are all at praise for the OSU doctor. Two Humboldt Penguins in Nottinghamshire Missing for Two Months Return to the Zoo; Thanks to Kind Cops. 
The university reported that the five-week-old puppy was surrendered to an animal rescue organisation. An associate professor of small animal surgery at OSU's veterinary, Dr Erik Clary took over the case three weeks later. Dr Clary explained that he and his team determined Milo's issue to be "congenital dislocation of both elbows." 'Biggest' White Shark Spotted in Hawaii: Divers Swim Together With the Great Predator. 
Watch Video of Puppy Born With Upside Down Paws Recovering Well After Surgery.
"For each of his elbows, we had to go into the joint and restore the alignment. Then we placed a pin across the joint to keep it straight while his growing bones continue to take shape and his body lays down the internal scar tissue that will be needed for long-term stability. All in all, Milo was under anesthesia for about three to three and a half hours," explained the doctor in media reports.
Milo's surgery was complicated. The pup is now being cared for at the Oliver and Friends Farm Rescue and Sanctuary in Luther. If everything goes according to the plan, Milo should be able to walk and play like any other dog.