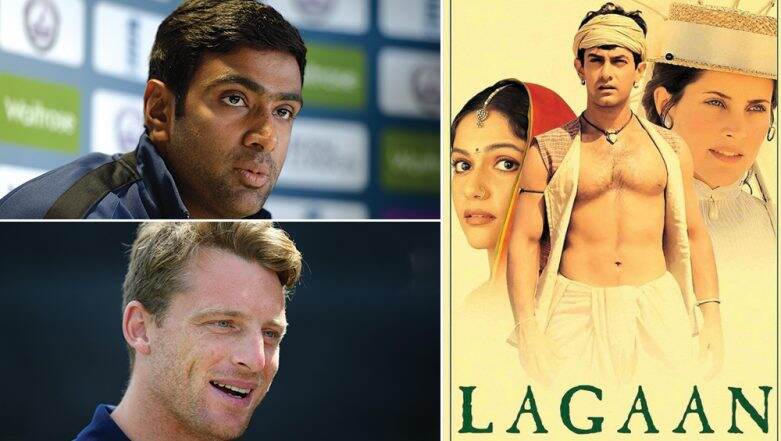 The Rajasthan Royals vs Kings XI Punjab that happened on March 25 saw itself snowballing into a huge controversy. The reason being the strange dismissal of Rajasthan Royals batsman Jos Buttler by Kings XI Punjab skipper Ravinchander Ashwin. In a move what the cricket experts call as 'Mankading' (named so after former Indian cricketer Vinoo Mankad), Ashwin runs out Buttler, when the latter was out of the crease before the bowler completed his delivery. Buttler, who was in a fine knick in the match, was annoyed with the dismissal. However, Ashwin was right in doing so as per the rules of International Cricket Council (ICC), even though the morality of the decision is being hotly debated by cricket fans. Especially since, TV replays clearly show that Ashwin had waited for Buttler to move out of the crease before dislodging the bails. What Is Mankading? All About The Mankad Way Of Dismissal That Was Used By R Ashwin to Run Out Jos Buttler In IPL 2019.
Ashwin's fans are strongly arguing that what the spinner did was nothing wrong. And there are others who feel what Ashwin did was not right in the spirit of the game. Finally, there are some Indian fans who feel that Ashwin has taken revenge for happened to 'Tippu' in Lagaan. Funny Mankading Memes Take Over Twitter After R Ashwin Mankads Jos Buttler During VIVO IPL 2019 KXIP vs RR Match.
For the uninitiated, Lagaan was an Oscar-nominated film in 2001, that was produced by Aamir Khan, who also played the lead. The movie was about a fictional cricket match between Indian villagers and British officers in the 19th century to remove the heavy taxes imposed. During the match, Tippu, a young boy is made as a makeshift runner for an injured Ismail (Raj Zutshi). Tippu, who used to take an earlier running stance, found himself outside the crease before the bowler completed his delivery, who knocks the bails off and therefore Ismail got out.
Considering that Jos Buttler is an English batsman, the Indian fans are now calling his dismissal a revenge for the above scene! Check out the tweets below:
Tweet #1
Lagaan, the movie is timeless. It just keeps popping in various real life situations and also cricket matches often. Ravi Ashwin gave us fresh memories today. Reversed the roles today as compared to Lagaan!! pic.twitter.com/ZiZ6Rpl0KO

— Rohitvarma (@AAMIRCRAZE) March 25, 2019
Tweet #2
Calling it a bad example to kids when your people literally did this to a 10 year old in Lagaan have some shame https://t.co/edy9MBJ7yh

— Grace (@NothingButFaxx) March 25, 2019
Tweet #3
That kid from lagaan took his revenge today 😂😂 #Ashwin #KXIPvRR #buttler pic.twitter.com/yvcr3Y0aba

— Babaji Ka Thullu (@BabajiKaThullu4) March 25, 2019
Tweet #4
Yesterday's match was nothing but remake of #lagaan .#AshwinMankads pic.twitter.com/pqhYPGHiu4

— sourav k jha (@Souravkjha) March 26, 2019
Tweet #5
Then we sympathized #Tipu getting #Mankad run-out by an Englishman in #Lagaan .. Now, @ashwinravi99 just pays it back to an englishman @josbuttler .. More Power to u #RaviAshwin .. @lionsdenkxip @prithinarayanan #mankading #AshwinMankads #IPL2019 #IPL pic.twitter.com/cRBliJGIzR

— Sandy (@Sandiplomatic) March 26, 2019
Tweet #6
This makes me feel what Ashwin did was less disgraceful!🤣

Ashwin did to Buttler what Capt. Russels's teammate did to Bhuvan's teammate🤷🏻‍♂️

Lagaan ka badla lega re yeh Ravichandran Ashwin!🔥#RRvsKXIP #RRvKXIP #Mankad #IPL #IPL2019 #IPLT20 #SpiritOfGame #SpiritOfCricket #Lagaan pic.twitter.com/dEc6aRjSap

— Chowkidar Parag Bhandiye (@im_parag21) March 25, 2019
In a post-match interaction, R Ashwin is annoyed with the controversy surrounding the way he dismissed Buttler. He said, "Look it was very instinctive. It wasn't planned or anything like that. It's there within the rules of the game. I don't know from where the understanding of the Spirit of the Game comes. Naturally if it's there in the rules, it's there. Probably, we need to go back to the rules." Agree with his views? Share your thoughts in the comments section below.