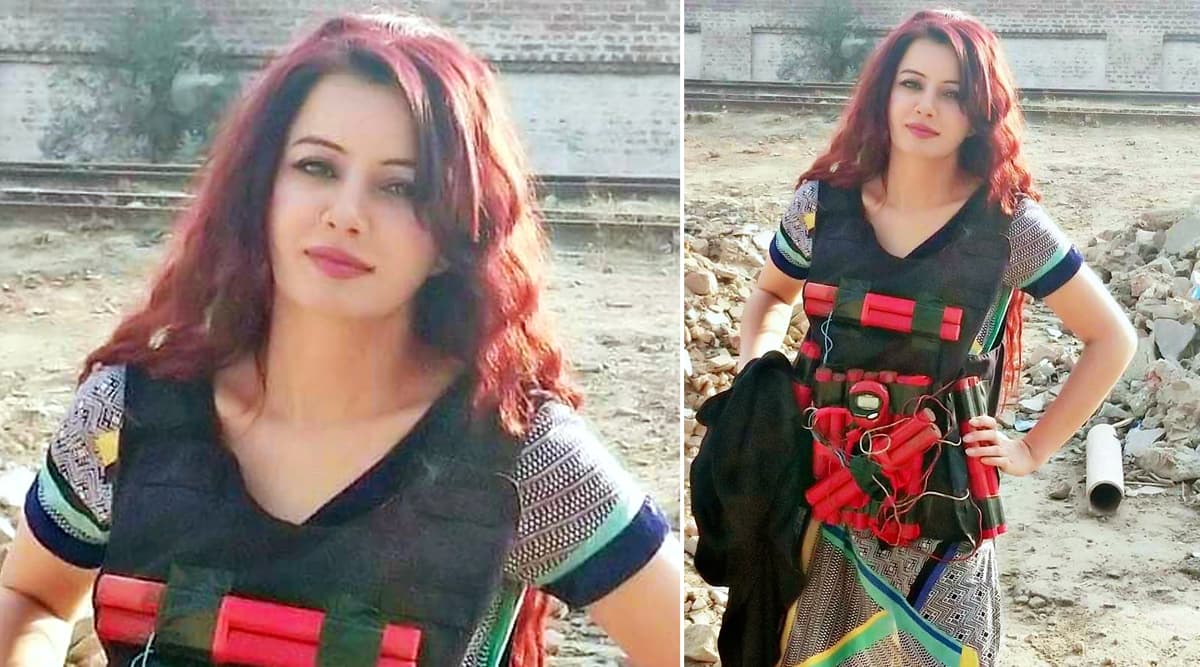 Islamabad, October 23: Pakistani singer-cum-actress Rabi Pirzada once again issued a bizarre threat to Indian Prime Minister Narendra Modi. Pirzada warned PM Modi with a fidayeen attack after she posted a picture wearing a suicide jacket on her Twitter account on Tuesday. The Pakistani singer likened the Indian Prime Minister to German dictator Adolf Hitler. She also called herself daughter of Kashmir. Javed Miandad Fires Salvo: 'Pakistan Should Wipe Out India With Nuclear Bomb', Watch Video.
Along with the picture, she wrote a caption "#ModiHitler i just wish huh #kashmirkibeti." Pirzada's picture wearing a suicide jacket sparked outrage on social media. Netizens trolled the Pakistani singer for threatening PM Modi with a suicide attack. Some Pakistani users also reprimanded Pirzada for projecting a bad image of Pakistan.
Rabi Pirzada's Tweet:
#ModiHitler i just wish huh 👀 #kashmirkibetipic.twitter.com/tAtpMH6t1U

— Rabi Pirzada (@Rabipirzada) October 22, 2019
Twitter Reactions on Rabi Pirzada's Picture Wearing Suicide Jacket:
Pakistan's True Colours
Great job you are showing the world Pakistan's true colors which is that most pakistanis yearn to blow up its in your filth stained blood. Happy hunting BSF and rashtriya rifles.

— Vinay [K E N O B I]. (@VinayValkrowzer) October 22, 2019
Don't Know What's Worse
I don't know what's worse, your singing, acting or your views... anyways! 😬 pic.twitter.com/k2Ix0hsT8P

— Bhagwa fi al'iimarat 🇮🇳🇳🇿 (@WesternBhagwa) October 22, 2019
National Dress of Pakistan
Pakistani traditional dress

— SarcasmNSacchai (@NSacchai) October 23, 2019
Truly Senseless
Are you in your senses?

— Natasha Kundi نتاشا کُندی (@NatashaKLondon) October 22, 2019
Last month also, she threatened PM Modi with snakes and crocodile. In the video posted on her Twitter, Parizada could be heard saying that she is ready with snakes as she will send the reptiles across the LoC (Line of Control).  Known for her bizarre behaviour, the Lahore-based Pakistani singer added that PM Modi should be ready to die in hell.
Even on August 17, Pizada released a song on Kashmir issue on her Twitter handle. In one of her tweets, she said, "We Kashmiri love Pakistan, always have, always will." Article 370 Revoked in Jammu and Kashmir: Shoaib Akhtar Echoes Sarfaraz Ahmed and Shahid Afridi's Calls Against Indian Government.
Pakistan has objected to India's move to scrap special status of Jammu and Kashmir by abrogating Article 370. After the Narendra Modi government's move, Islamabad has downgraded relations with New Delhi.