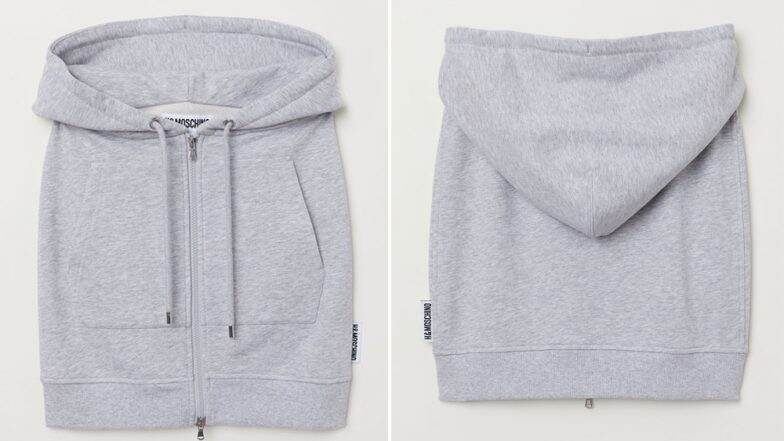 It would not be wrong to say that fashion trends have been going all experimental this year. In an attempt to make unique clothes available, brands have made several new offerings. But not all of them have been impressive for the audience, like the latest skirt with a hood at H&M. The skirt looks more like a hoodie and you'd have to look twice at the title to know it is a skirt. Twitterati isn't impressed with this skirt which has a hood to cover around your bum. Like why? Thong Jeans are a Hit However You May Laugh at It! There's Waitlist for Denim Brand's Extreme Cut Out Jeans Priced at Rs 11,424! 
People on Twitter have questioned the brand as to why did they even think of making such a skirt. Some even thought of it as a dog jacket. The grey coloured skirt has a hood just at the bum area which looks like an unwanted extension, especially drawing attention to the bum. It is priced at £34.99. It is of sweatshirt material, which does pass it off as a hoodie. With a two-way zip down the front, side pockets and an unwanted addition. Check how some of the people on Twitter have reacted to this hood with a skirt. A Jacket That Covers Only One Arm is the New Fashion Trend.
It's Not a Dog Jacket?
Thought this was a dog jacket at first until I read "skirt with hood", wtf H&M lmao pic.twitter.com/VBIu2Pl5my

— Brooke (@brookestratford) December 9, 2018
Smoking too much H&M?
Have the designers at H&M been smoking too much pot - I've just come across a skirt with a HOOD!! The only good thing that can come from this is wearing it back to front and using the hood as a snack holder. pic.twitter.com/gOjSqf4216

— Katie Jane Weston (@kayjaydoubleyou) December 10, 2018
Why Though?
Ok, yes women want pockets on our clothes. And while I appreciate your enthusiasm, H&M, a skirt with a hood is for my what, exactly? The disembodied head I trail behind me? #pockets #skirthood pic.twitter.com/OEcYpQ4wzR

— Kristen Perrin (@Kristen_Perrin) December 11, 2018
have a actually just seen this advertised to me on insta??? skirt with a hood????? can someone explain wtf that even is and why H&M are trying to charge folk £34.99 for it?????? 🤨🤨🤨 pic.twitter.com/PvSrwpP9nY

— GN (@_gemmanimmo) December 11, 2018
Worst fashion scenario!
What the hell, this is literally the worst thing I've ever seen. Why an earth design a skirt with a hood. If this is fashion I'm glad I have none. #handm #skirthood #whatthehell pic.twitter.com/DkPRqUmsWo

— Dee (@ThatLetterDee) December 12, 2018
Women are clearly not impressed with this hood skirt and yes, it does look odd. Probably the hood skirt would keep one warm but it doesn't score any well on the fashion angle.