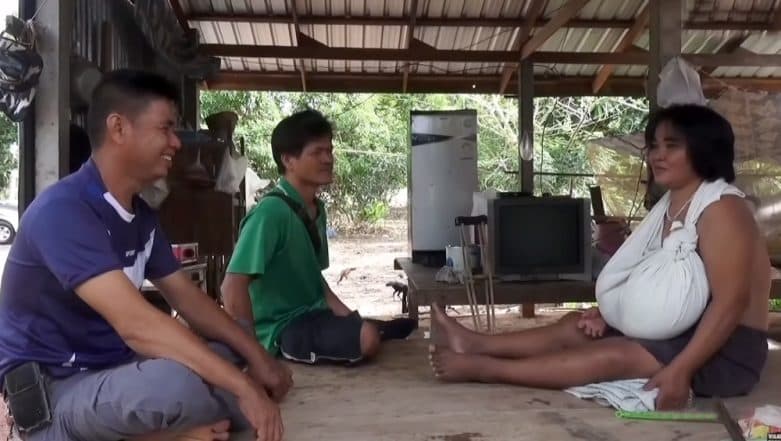 A woman in Thailand is suffering from an extremely rare medical condition where her breasts don't stop growing. A woman named Lamphrai Si Nuan, of Thailand, is going through extreme pain as the weight of her growing breasts does not even let her walk! She has been forced to use crutches to move about. Because of her huge bosom, she suffers from pain in her neck and shoulders. The mysterious conditions have even left the doctors in shock, who are too clueless to find a solution to help her.  And with no job, she's not even sure if she can afford the treatment, if suggested. UK Woman's Breasts Won't Stop Growing! Mother With 48J Bra Size Suffers From Macromastia.
The 46-year-old woman is married but has no children. Her husband took her to a local hospital in Phitsanulok province to diagnose her condition, but the medics were not sure of the cause. There were also no signs of tumour; so they do not suggest the right treatment for her big breasts.
Her ordeal started three years ago when her chest started to swell. She did not pay much heed to it back then, but over the years, the situation has got out of control. At the end of last year, her breasts suddenly started ballooning. Want Bigger Boobs? Beware, This Woman's Botched up Breast Implants Turned Them Into 'Rocks'! Know about Capsular Contracture.
Watch Video of Thai Woman Whose Breasts Won't Stop Growing:
She was quoted in a report to The Sun, "It's very difficult for me to even sit or lay down to sleep at night. The breasts are getting heavier and that really hurts my neck and my back. I don't wear clothes because every shirt I have doesn't fit me now. I only have one large shirt that I wear when I go to the hospital." She is forced to just tie a cloth around her breasts to cover them. She also mentioned that she feels constant pressure on her spine and pain in her nipples. Right Bra for Big Boobs; Five Ways to Rock in Off-Shoulder, Low-Back Outfits for Top Heavy Women.
Because of the growing pain, she discontinued working on their farm. And with no stable work, they fear if they can afford the treatment. She has thus appealed to people to help her with the medical costs and hopes that someone will be able to cure her condition soon. The condition is similar to breast hypertrophy, a medical condition that can cause breasts to grow uncontrollably. But Lamphrai Si Nuan has not been diagnosed with that condition as yet. It is a rare case so doctors will have to perform more test to detect the problem.