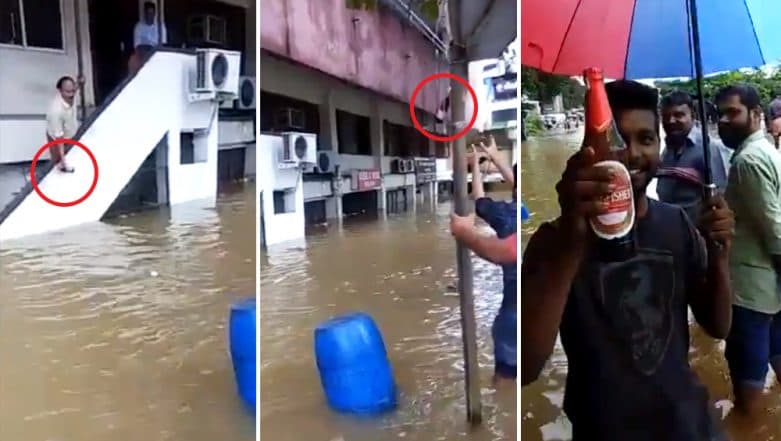 Kerala is witnessing terrible floods all over again like 2018. Floods have entered homes and brought normal life to a standstill in many parts of the state. While rescue and relief operations are in full swing in Kerala, some people are trying to set their priorities right. Video of a group of men carefully taking a beer bottle out of a flooded shop in Kerala has gone viral on social media. And the internet can't stop talking about the Malayali 'Spirit' which is quite lively even in such terrible conditions. Kerala Rains: Death Toll Rises to 60, IMD Issues Red Alert For 8 Districts.
The clip shows a man coming out of the building holding something in his hand. With knee-deep water flooding the area, he cannot step outside. So he signals the men that he is going to throw the beer bottle towards them. The video shows the men carefully aiming and throwing the bottle which gets caught by one of the men standing on the other side. He hands it over to another man who smilingly shows off the catch. The video was posted on Twitter with the caption, "Humanity restored." 23 Trains Cancelled in Flood-hit Kerala.
Watch the Video Here:
Humanity restored. 🙏🏾 pic.twitter.com/HzcgVt2UVU

— St. Sinner (@retheeshraj10) August 10, 2019
And Here's How Twitterati Reacted:
Divided by nature, United by kingfisher 🍻 😬

— LACTOSE INTOLERANT (@Drunk_hangover) August 10, 2019
Hail the Spirits of Malayalis!
Malayali "spirit(s)"

— EntirePoliticalScience (@entire_science) August 10, 2019
Together in All Times!
Good Times in Tough Times

— Ashwani Paliwal (@AshwaniPaliwal9) August 10, 2019
Everybody After Watching the Video:
— Nemesis♐ (@fara_s) August 10, 2019
HAHAHA
Haha...is this is called 'fishing in troubled waters' ??

Jai @kingfisherworld

— Anantha Subramanyam (@Ananthaforu) August 11, 2019
Kerala is among states known for the highest consumption of alcohol.  According to the 68th report of the National Sample Survey Office (NSSO) on Household Consumption of Various Goods and Services in India, in 2011-12, Andhra Pradesh, Tamil Nadu and Kerala along with Arunachal Pradesh and Assam consume the maximum amount of toddy, beer, foreign liquor and wine across rural and urban areas. Kerala Rains: 9 Bodies Recovered in Two Days, 30 Families Feared Missing After Landslide in Malappuram District.
Meanwhile, floods have uprooted the lives of many in Kerala. As many as 57 people have died due to floods, while over 1.65 lakh people have been evacuated so far. According to official figures, deaths caused due to deaths between August 8 and 10 is 57, while 1,65,519 people have been evacuated to 1,318 relief camps.