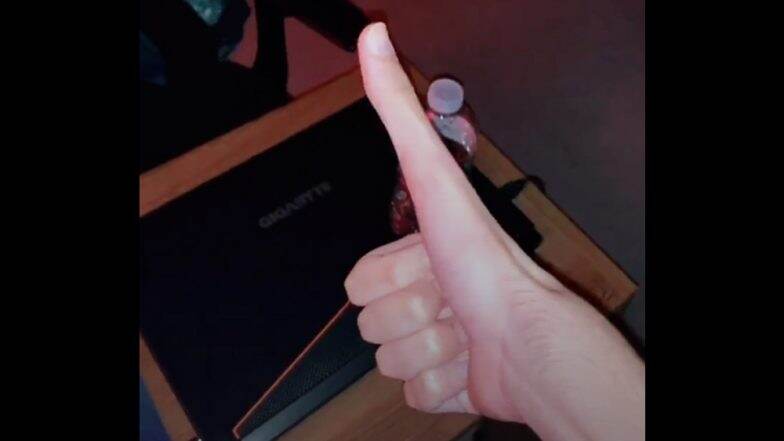 The internet is freaking out looking at the videos of a US student, whose thumb is unusually elongated -- five inches long! His TikTok revelation has stunned the internet and soon made him a viral sensation. People are literally googling the student who is blessed with the rare anatomy. The boy, identified as Jacob Pina, a student from Westport, Massachusetts, has now amassed almost 154K followers and more than two million hearts on the video-sharing app. By now, you definitely have watched his TikTok videos showing off his five-inch thumb. But what about the rest of his hand? Are all his fingers unusually large? Or it is only his thumb. Check out clips that show the rest of his hands. How to Trick Your Toddler into Eating Fruits and Vegetables: TikTok Mom's Hilarious Hacks Are What Every Parent Needs! 
Jacob has no idea why his thumb is so wildly out of proportion with the rest of his hand. But the 20-year-old US student boldly showed it off on social media and won so many admirers around the world. Looking at his TikTok account, it appears that Jacob revealed his unusually long thumb in the first clip. The first video so far has achieved more than 60,000 views on the video-sharing app.
Thumbs Up, People!
In case, you are wondering, how the rest of his hands look like, the US student has answered that too. Well, all his fingers are really long, but his thumb even more so.
Since, You All Are Wondering!
As the video gained a lot more attention, Jacob's followers began to question if his left-hand thumb is five inches long too? They have all the right to know.
Not Much Difference!
In one of his video, Jacob has said that he had never lost a thumb war. Thanks to his lengthy digit. Internet is stunned and equally have a fun time, scrolling down the US student's videos. We wonder if there is anybody with a much longer thumb. Six inches, maybe!