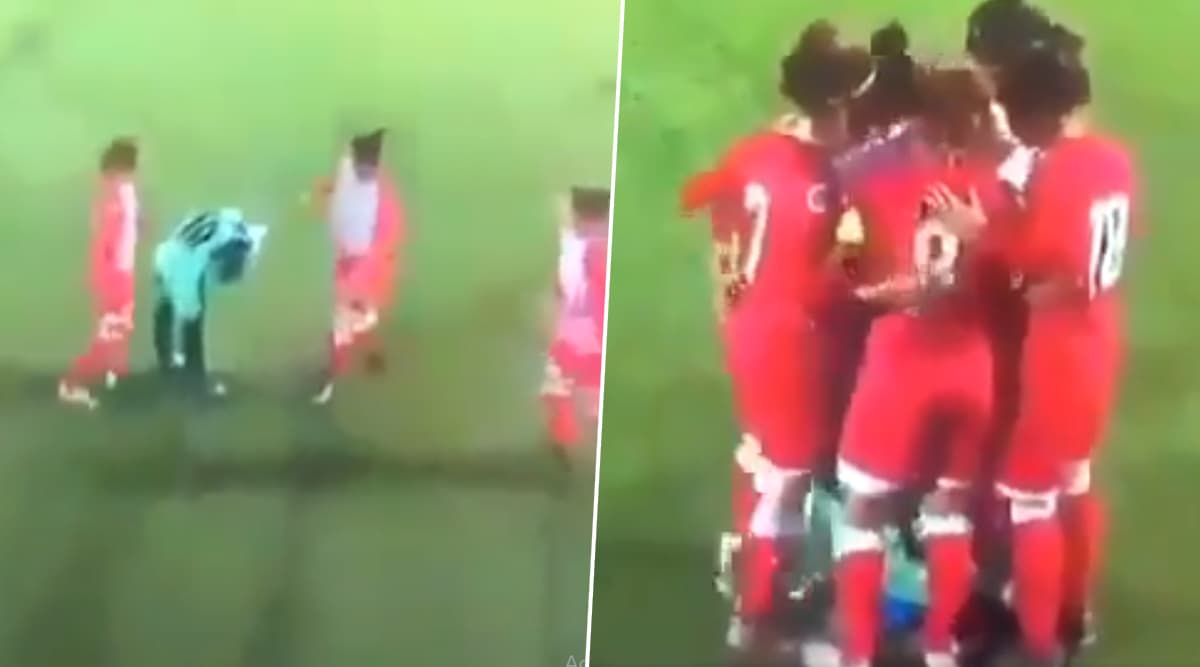 Sports championships are events which witness some beautiful moments on the field. The ongoing sport creates tension among the audience and players alike. Recently, the WAFF Women's Championship or West Asian Football Federation Women's Championship saw a beautiful moment when team members huddled around their opponent player to protect her hijab from showing her hair. Team members of Shabab Alordan huddled around a hijabi player from Amman club to protect her veil from revealing her hair. The video of the same has been shared online but the internet does not seem to be as impressed. The video is going viral with a mix of reactions. Video of Security Guard Dancing in Houston Astros Vs Tampa Bay Rays in ALDS Game 4 Reminds People of His Previous Dance Face-Off (Watch Viral Videos).
The video is from the final league game which was held in Bahrain. Shabab Al Ordon from Jordan won the game to just became West Asian women's club champions this year. A moment that has caught all eyes is when the hijabi player of Amman club was surrounded by her opponents so that her hair wouldn't be seen from the hijab. According to the religious custom, a hijab is supposed to cover the entire face and hair. It only reveals the eye of the wearer. Keeping in mind the religious aspect, the opponents took care of the player.
Watch the Viral Video Here:
JUST BEAUTIFUL.

Opponents huddle up around a Hijabi footballer in order to protect her from showing her hair. pic.twitter.com/O5aC84AhmN

— Shuaib Ahmed (@Footynions) October 13, 2019
The video has got over 3 lakh views and close to 2,000 retweets. It has close to 6,000 likes but the reactions are diverse.
Respect
Massive respect 🙏🏻

— Alym © (@Civilian10) October 13, 2019
Class
Pure Class. #SoccerCanSaveTheWorld

— Sundaze-antifacist capo #kNiTpUnK 🏳️‍🌈🧶🖕🏻⚽️🥃 (@Sun_Daze_11) October 13, 2019
Display of Humanity
Humanity 😍.

— Tallat (@Tallat830) October 14, 2019
Woah what a beautiful gesture 🌹❤️ this is how humanity works 🌷🌹💜🥀💖

— Bushra (@bushrabeingPaki) October 14, 2019
Not Beautiful
It's not my idea of beautiful.

— NRogEv (@nicksmah47) October 13, 2019
Overreaction
The way her opponents immediately hid her is absolutely beautiful, it's like the pinnacle of respect and sensitivity.

But as far as I know, it's not a sin if her hair is accidentally exposed and especially not to such a small extent, so there was no need for such an overreaction

— Honest Thoughts (@AHonestThoughts) October 14, 2019
Ridiculous
It's more ridiculous than amazing 🙄

— rehan (@rehantube) October 13, 2019
A lot of people just commented that it is nice to see people of different community respecting the customs of another and doing their best to protect them. But some called it a stunt looking at the instant reaction of the other players.