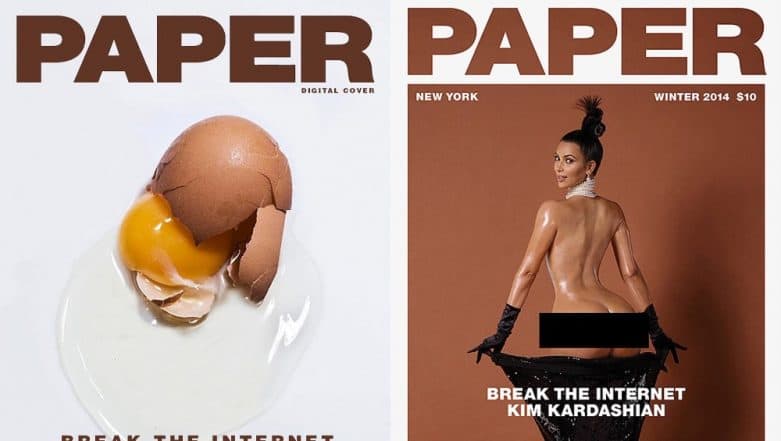 The egg is going after the Kardashian-Jenner clan and showing them no mercy! In case you folks haven't kept yourself up to date with viral stories, the picture of an egg has managed to beat social media Queen, Kylie Jenner's record! Just recently, it was announced that 21-year-old Kylie's Instagram record of likes was beaten by a picture of an egg shared by @world_record_egg with a whopping 32.6 million likes. Well, having crossed a milestone achieved by Jenner, the egg is now going after the Kardashians as it has now found itself on the cover of Paper magazine, yes, the same magazine that put Kim Kardashian to fame as the ultimate Queen of the phrase, break the internet!
Taking to Instagram, Paper magazine revealed that their latest digital edition's cover star is none other than the egg that beat social media moguls. The cover was captioned as, "#BreakTheInternet 🍳 #LikeTheEgg" The wordplay here has been done to precision considering how the picture of the egg is a minimal design of a brown egg cracked from the bottom with the yolk spilling out.
View this post on Instagram
"Break the internet" was first used by the magazine back in 2014 when they featured Kim K on the cover. How did it all begin? Well, on January 1st, this year, a picture of the egg was posted by an IG handle going by the name, @world_record_egg. The egg received far too many responses on social media with likes pouring in from all sides! Currently, the page has a tagline stating, 'Official world record holders of the most liked picture on Instagram.'
They've also shared a picture of the egg on their page again with a caption that reads, "Let's set a world record together and get the most liked post on Instagram." Beating the current world record held by Kylie Jenner (18 million)! We got this." Clearly, that's a challenge directed towards Kylie! Earlier on Monday, Kylie also tried to retaliate to the egg by breaking it on the road under the scorching sun.
View this post on Instagram
View this post on Instagram
The picture of Kylie in question that managed to rake in so much love was the one she posted in 2018 of her daughter Stormi Webster. Perhaps the fact that it was her first picture made fans go in a 'likes and love' tizzy. We wonder what the egg's next conquest would be. Let's hope not a ramp walk to compete Kendall!