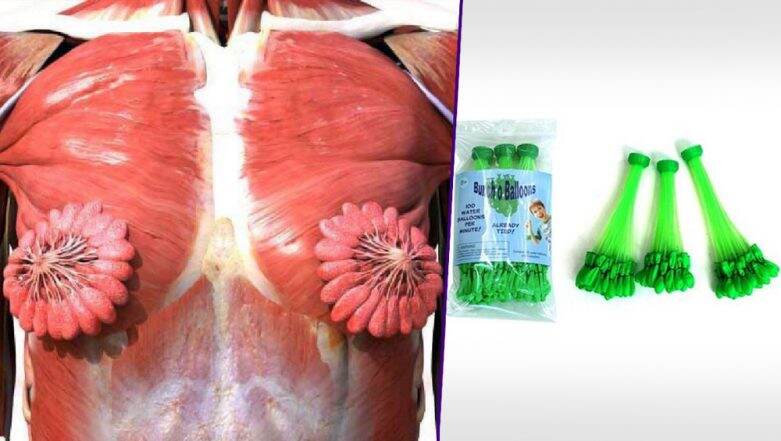 Breasts are fascinating organs, no doubt. But have you ever wondered how the inside of your boobs looks like? Well, Twitter recently was enlightened about it when an image of female chest muscles and milk ducts went viral. People did not know how to react to it when Twitter user @lemonadead shared a realistic illustration of the female muscular system that featured milk ducts in each breast. The image has garnered mixed reactions; some were disgusted, others were shocked, and some liked them and compared them to flowers. But a few also complained of the pic triggering trypophobia, an unusual fear of holes. Your Boobs Can Be Converted Into Pots! Artist Helps Create 'Tit-Pots' Make In The Shape of Your Breasts (View Pictures.)
The Viral Post of Milk Ducts:
I just realized I never saw a photo of a female muscle system. This is NOT what I imagined milk ducts to look like. pic.twitter.com/GBK6trgXF8

— Artist formerly known as Byeonce (@lemonadead) April 21, 2019
Here are some of the reactions the milk-duct picture received:
Does it?
It gets worse lol pic.twitter.com/kdVUbntZ9q

— CartierCameron (@BeyDaze) April 21, 2019
OMG
Woah my trypophobia just popped off please stop

— christelle bofale (@bofalebill) April 23, 2019
THIS
Maybe it's only freaking people out because it's not normalized because of the patriarchy showing us a man's biology in class.

— Jasmin J (@meanyqueeny) April 22, 2019
Many find it beautiful!
Beauty. Human engineering. You also know mos that girls are born wth a million eggs, die monthly, when teens come and real ovulation begins - only thens its visible. Eggs keep dying till mid 40s when menopause start - eggs finished.

— Ndizeke.Nokuba. Akunankomo. (@ThembaletuMbang) April 22, 2019
Some couldn't decide what they felt
It sort of looks like...flesh flowers? Terrifying but also kind of beautiful?

— Bree (@womanyst) April 22, 2019
LOL
it looks like those water balloons where all you have to do it attach the hose then 100 water balloons fill up.

— lol no (@notthateasysis) April 22, 2019
THESE THINGS HAHAHAH pic.twitter.com/ehDfR3tZFh

— lol no (@notthateasysis) April 22, 2019
Screams
I FUCKING SCREAMED

— Lila 🦋 (@Lilaiveth8) April 24, 2019
God, NO!
I was thinking of that, and what if I squeeze them and it explodes

— nicole (@yoelirosario) April 24, 2019
Some people were understandably horrified, especially if you didn't pay attention in your biology class in childhood, this picture can freak anyone out! What say?