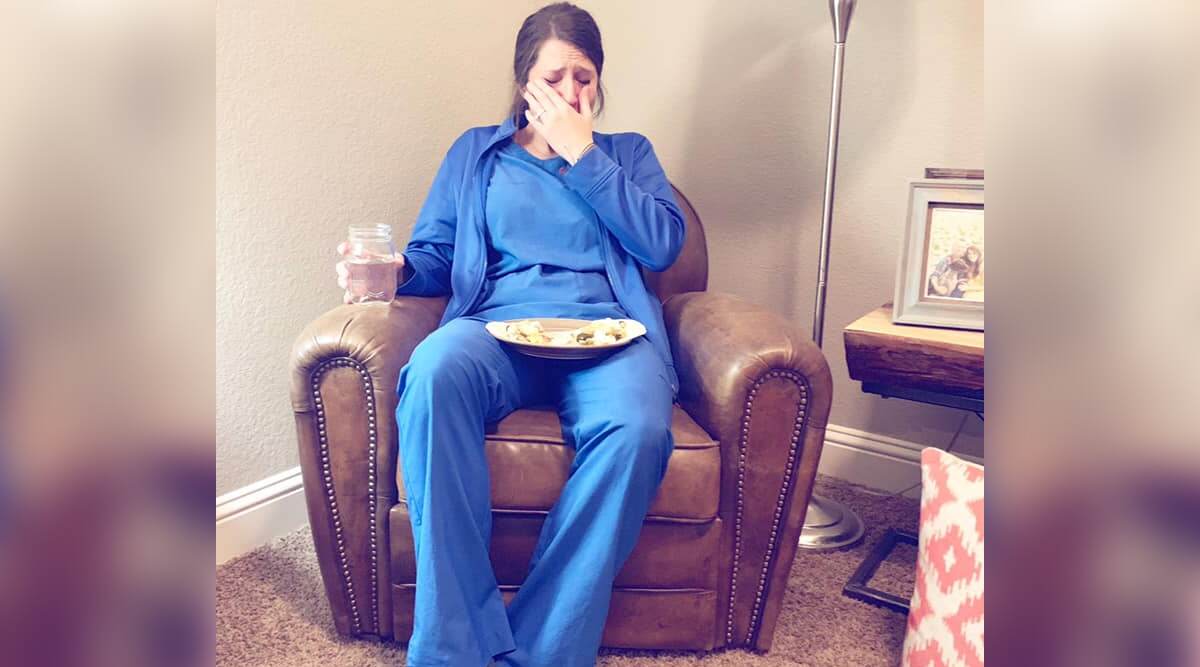 Nursing is a profession which at times could be more stressful than many other jobs. Being a nurse is not easy, and each day, they come across new challenges. A viral picture of a nurse in her emotional outburst describes one such situation. The image shared by her twin sister on Facebook shows a photo of the medical profession breaking down after a particularly rough shift of 53 hours in four days. The picture of Nurse Caty DiBari is going viral on all the social media platforms serving as a reminder bell to us that how we often their hard labour is unnoticed. The internet thanks Caty for being such an amazing and devoted in her profession. Nine Nurses of Maine Medical Center Who Went Viral For Being Pregnant Together Have Delivered, Check Pic of Their Babies. 
Caty's twin sister, Laura McIntyre uploaded the photo, revealing a particularly low moment earlier this year. The Texas-based Laura writes on the post that her sister would "kill her" for sharing this picture. But she wanted to highlight for her extreme dedication to her job and thank all the nurses across the world. In a lengthy caption, Laura explained that the photo was taken in July when Caty visited her after assisting in the delivery of a stillborn baby. Work-Related Stress? How Alternative Healing Therapies Can Improve Mental Health. 
View Viral Pic of Caty: 
As the picture went viral, people online began to share their experiences and some patients of Caty lauded for her hard work too. "Nurses have to do it all , look at this lady's eyes. They are tired, sad , and just worn out . Nurses and teachers just are special people that need a thank you told them once in a while ," one of the Facebook user commented.
This is one of many similar outbursts of nurses whose exhausting shifts and different experiences they go through with each patient at the treatment centres. Various studies pointed out that stress is a part of every profession, but nurses are prone to it psychologically, physically, socially, nature of work and environment. They deal with so many traumatic and emotional situations of the parents. They need to support and stand firm in front of all families. Their dedication must be praised. If you know anybody in the profession or happen to undergo treatment or your family member, do not forget to appreciate their work. Thank the nurses for being so patient, kind and hardworking.