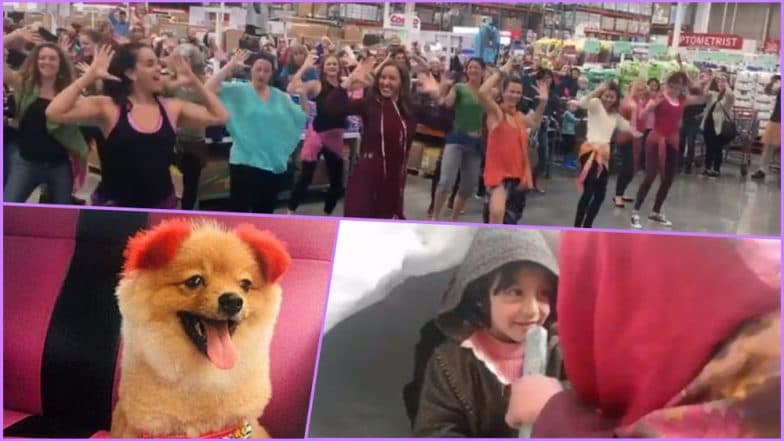 It can be hard keeping up with everything that happens week in and week out. But our beloved internet can never disappoint us. To know what is happening around, there is no necessity to depend on the prints anymore. Social media has everything. Starting from the tension that almost all the countries are facing some cutest innocent moments, the internet has it all to delight you. As we are back again, to list down the top seven videos that went insanely viral this week, here is a little heads up. There were many videos on social media that included both scary and funny moments alike. However, only seven of them could make it to the list. From amazing California flash mob to a man throwing his expensive iPhone into a bear enclosure instead of an apple to the Indonesian police's trick to scare the suspected thief, this week had the most hilarious and amazing clips on the internet. Dog With Two Mouths in Oklahoma! Canine Has Salivating Mouth in Place of an One Ear, Watch Video.
With the week also hosting Valentine's Day 2019, Bajrang Dal like every year claimed that they got a couple married and shared video online. This week's list of viral videos come from many corners of the world as a treat to social media users. Without any further delay, let us check the top 7 videos of the week. Rat in McDonald's! Man Releases Rodent in New Jersey Outlet Causing Panic Among Customers (Watch Video)
London Thumakda Flash Mob in California Shopping Store:
Alright, flash mobs are the best thing to experience and be a part off. You are walking through the street or maybe a shop minding your own business when BOOM; you hear music, people are singing and dancing together. That's what the customers at Costco outlet in California's Santa Cruz were surprised when a flash mob broke around them. And the reason, it went crazy viral unlike its predecessor is because, it had a Desi touch in it. It was set in a foreign land with the infectious Bollywood number, London Thumakda from Kangana Ranaut's 2014 film Queen.
Dog's Ear Falls Off After Owner Coloured Them Red:
This would the most horrible video that the netizens this week have come across. A Pomeranian's ears were dyed in red, which resulted in one of the ears falling off completely. It was an allergic reaction to the chemicals in the colour that was used. Of course, the internet could not keep calm. The Thai pet owner was slammed by the people on social media and vets calling her 'irresponsible.'
Kashmiri Girl Reporting on Snowfall in Valley:
A schoolgirl from #Shopian is reporting about snowfall. Watch this aspiring journalist's report. #kashmir pic.twitter.com/QSKYAopZ6h

— Fahad Shah (@pzfahad) February 8, 2019
Children are too innocent. With their every cute move, they just make the people go aww over and over again. While people in Kashmir, every morning these days are waking up to a new blanket of snow, a girl in the valley has gone viral, taking away all the winter blues by her innocent weather reporting. The adorable clip of the young girl detailing whereabouts of the snow-laden valley holding a wooden ruler as mike, has left the internet in love with her.
Snake Used by Indonesia Police to Scare Suspected Thief:
The Police forces across the world are popular for using their harsh techniques against the suspect in order to obtain confessions. But this one was way too much. The Indonesian police chose a snake to scare the young man who was suspected to be a thief. One of the officials can be seen putting the snake over the suspect, while the other officer is heard laughing. After the growing outrage on social media, the police officials had reportedly apologised.
Man Throws iPhone Instead of Apples into Bear Enclosure:
This Chinese man is undoubtedly an apple person. Yeah, it could be the lamest joke, but his misery was internet's utter amusement. The man at a Yancheng Wildlife Park in China's Jiangsu Province, was aiming to throw apples and carrots to feed the bears. However, he ended up throwing his iPhone. And one of the bears just took the phone in its mouth, before walking away.
Dramatic Rescue of 8-Year-Old Girl From a Giant Panda Enclosure:
It was a near escape moment for an 8-year-old girl in Southwest China's Chengdu city. The little one was sitting on the fence before she fell into the panda enclosure. The guard who pulled the girl up extending his arm, the moment the pandas was nearing, was highly praised on social media. Thankfully, the girl was rescued safe, and no one was injured.
Bajrang Dal Forces Couple to Get Married on Valentine's Day in Hyderabad:
Bajrang Dal activists forced a couple spending time together in a Hyderabad park on Valentine's Day to get married. The organisation had earlier threatened couples to not celebrate Valentine's Day. The video going viral on social media shows the boy being asked to tie a mangalsutra around the girl's neck while one of the members of the outfit records them on phone.
These were a few, out of many videos that you have seen on your social media feed this week. While, they fairly remain on the viral list, let us know if you think we missed any moment, worth mentioning. Till then keep browsing and use social media wisely. Happy Weekend!