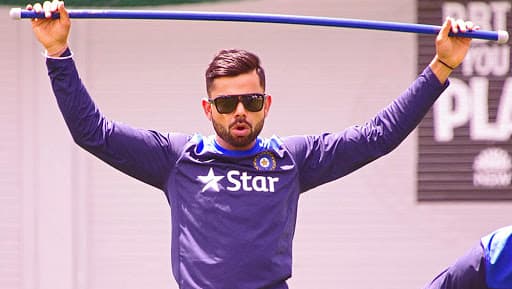 There has been severe controversy lately after a video footage of Virat Kohli went viral on social media. In the video, he is promoting his official app, and is seen responding to a cricket fan who said, "Over-rated batsman and personally I see nothing special in his batting. I enjoy watching English and Australian batsmen more than these Indians." In response to which, his harsh words were, "I don't think you should live in India, go and live somewhere else. Why are you living in our country and loving other countries? I don't mind you not liking me, but I don't think you should live in our country and like other things. Get your priorities right.". Bully Virat Kohli's 'Leave India' Comment to Fan: These Ugly Episodes Prove Indian Captain Is Great Cricketer but Not a True Role Model!
Here is the video that created a storm on social media
Is #Kohli asking his non-Indian fans to leave their country and come to India🤔🤔.. Or to sort their priorities? #WTF pic.twitter.com/tRAX4QbuZI

— H (@Hramblings) November 6, 2018
This statement has not gone down well with his fans and also among the several brands that he endorses. According to reports, Kohli currently has 18 global and Indian brands in his endorsement kitty. The Indian cricket captain is one of the most popular celebrities with a brand value of $144 million, according to December 2017 Duff & Phelps report. Virat Kohli's Favourite Cricketer Was Herschelle Gibbs NOT Sachin Tendulkar, So by His Own Logic Indian Captain Should Leave India!
Indian Vs Global Brands Kohli Endorses
Among the Indian brands, Kohli endorses are UB Group's Royal Challenge energy drink, Manyavar, Boost, Smaash, Colgate-Palmolive, MRF.
Some of the big global brands which he is the face of are- Uber, Puma, Audi cars and Tissot. In 2017, Kohli signed a Rs 100 crore deal with Puma for an eight-year deal. According to a 2017 Sportskeeda report, Indian captain charges almost $1 million a day for his shoots, putting him in the same line as that of the international sports stars.
It is really surprising that Kohli who earns the major chunk of his endorsement fee from foreign brands makes such an absurd and unwanted statement.
BCCI Response
Kohli's comment has not been welcomed by BCCI top bosses as well. According to an article on Times of India, BCCI heads have expressed their displeasure and have highlighted that such comments can't be made even in jest.
BCCI Treasurer Anirudh Chaudhary as quoted in a TOI report on this entire controversy said, "We, at the BCCI value our cricket fans and respect them and their choices. I loved to watch Sunil Gavaskar bat, but also loved watching (Gordon) Greenidge, (Desmond) Haynes and Viv Richards. I loved watching Sachin, Viru (Virender Sehwag), Sourav (Ganguly), VVS (Laxman), Rahul (Dravid) bat but also loved Mark Waugh, Brian Lara and so many others."
He further added, "Shane Warne for me has been the most exciting spinner to watch, but one felt the most thrill when Anil (Kumble) was bowling. Kapil Dev on a song was a delight to watch as were (Richard) Hadlee, (Ian) Botham and Imran (Khan). I think this has to do with respecting cricketing excellence without any thoughts about geographical or political boundaries."
Another BCCI official as spoken to the newspaper said, "Virat needs to understand that if the fans go away to other countries, then no Puma etc. will want to sign him for Rs. 100 crores. The BCCI's revenue will fall, and consequently the players' fees. If he checks his contract, he may find that he may have violated his contract with this statement. Just like he violated BCCI's contract with Nike when travelling to England to support Puma."
Fans' Reaction
His fans also were very disappointed with his statement and they started trolling him on Twitter.
Why #ViratKohli is trending today? Is there any conspiracy by his PR team? Coz whenever @ImRo45 starts shining the very next day kohli's presence on SM escalates. Are they fearing overshadowing by #RohitSharma ?

— Jay...... (@AdvJayPillai) November 7, 2018
Virat Kohli's Statement
Looking at the huge social media noise and the negative publicity happening, Kohli said on twitter, "Trolling isn't for me guys, I will stick to getting trolled." It is very evident, that the intention of this comment was to make the situation light by saying that it was just a troll.
I guess trolling isn't for me guys, I'll stick to getting trolled! 😁

I spoke about how "these Indians" was mentioned in the comment and that's all. I'm all for freedom of choice. 🙏 Keep it light guys and enjoy the festive season. Love and peace to all. ✌😊

— Virat Kohli (@imVkohli) November 8, 2018
Virat Kohli is not only the Indian cricket team captain, but is also considered as a youth icon. Kohli shouldn't have made such stinging comments because after all cricket is considered as a gentleman's game, and people are free to have their preference on whom to support, and whom not to. Ironically Kohli during the ICC U19 Cricket World Cup in 2008 had said that Gibbs is his favourite player. So, going by the Indian skippers logic, shouldn't he himself the leave the country first?
The way, Kohli reacted doesn't reflect his maturity and comes across as extremely inane. Moreover, if Kohli can sign up multi-dollar deals with global brands and still make such comment on 'Indianess', isn't it called hypocrisy? Let us know, by writing to us in the comments section below, what is your take on the issue.
(The opinions expressed in the above article are of the author and do not reflect the stand or position of LatestLY.)